Gang of armed men targets school and college students; 20 rapes in over a year, but only four reported to cops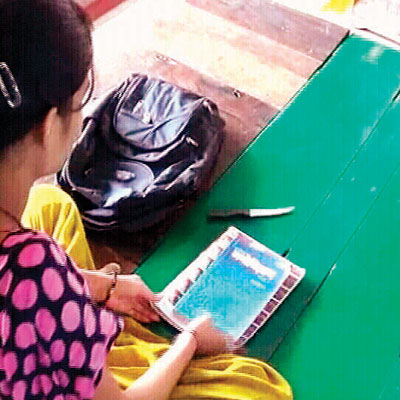 A gang of rapists is on the prowl, targeting school and college students in the remote pocket of Hajipur in Bihar. Though only four such cases have been registered, eyewitnesses said at least 20 rapes have taken place in over a year. Such is the fear of the gang that some girls have started carrying knives in their school bags or are accompanied by their parents.
Rajdeo Rai, a resident of Khajbatti village in Hajipur, was shot dead by the rapists on Saturday. He was an eyewitness in the gang-rape of three young girls and had started getting threat calls. "We approached the police on several occasions for protection, but they did not act and the rape accused killed my father," Rajdeo's son Rahul told Zee Purvaiya, dna's sister concern.
On September 22, 2013, three girls who went to collect firewood were waylaid by six armed men. While two girls were dragged to a field where the men took turns to rape her, the third managed to flee. However, while running towards Rajdeo's house, one of the accused fired at her. The other accused followed and began pumping bullets at Rajdeo's house, demanding that he hand over the girl to them. He refused.
Rajdeo became a witness in the case after which he started getting threat calls. The FIR did not act as a deterrent. The accused went scot-free and began targeting other girls. In less than a month, four such cases were reported at the Vidupur police station.
"There is not a single house in this village that has not witnessed this. No one is safe here. The police do not act. There are dozens who have been raped, but they fear approaching the police especially after what happened with Rajdeo. The rapists roam freely as if it is their right to rape every girl," an elderly woman told dna.
dna spoke to six school and college students, including a gang rape victim, who gave an insight into the fear in their minds. "I have stopped going to school. They tried dragging me into the bushes once. They pull my dupatta, pass lewd comments and often touch us," said a class X student, aged 16. Another 18-year-old rape victim said: "One afternoon, they dragged me to a field and took turns to rape me. I shouted for help and about 6-7 people came forward, but the culprits opened fire at them."
Not a single political party in the state is bothered about the plight of women. Khajpati and Ijra villages have become a favorite hunting ground for a group of rapists with strong political connections.
Ironically, while Nitish Kumar is wooing voters by promising an improved law and order situation, locals in the affected villages are blaming the ruling party for providing protection to the accused. On Sunday, when Raghopur JDU MLA Satish Kumar Singh went to Khajbatti village to attend Rajdeo's cremation, the villagers accused him of shielding the accused in the gang rape case and forced him to flee from the village.
Suresh Chaudhary, superintendent of police in Vaishali, Bihar, said: "We are doing everything possible to ensure the guilty are arrested and get exemplary punishment." He, however, said the villagers did not inform the police about any such incident.
After a series of rapes, a police post was set up in the village last year, but now it has been removed. The village bears a deserted look. The attendance in the high school in Desri, approximately 6km from Khajbatti village, has gone down drastically. The principal says the girls have stopped coming because of such incidents.