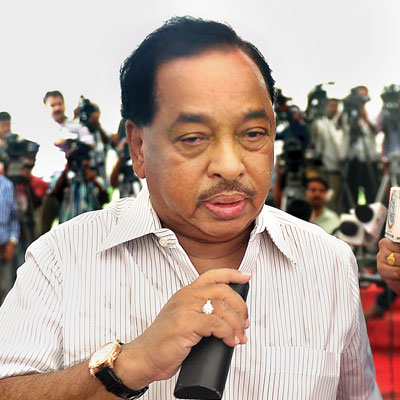 Maharashtra Industries Minister Narayan Rane has refused to withdraw his resignation from the post which he had tendered on Monday.
Rane met with Mahrashtra Chief Minister Prithviraj Chavan and the state party president Manikrao Thackrey for an amiable solution to his resignation. Chavan, in an attempt to retain the leader, assured him that his issues would be taken up with Congress leadership.
"Yes, he has said he will take up the issue with the central leadership, but I will not withdraw resignation," Rane informed the media on Tuesday.
The decision on Rane's resignation from his post would now be taken up with party chief Sonia Gandhi. When asked about his future plans, Rane said the decision would be taken after the meeting with Gandhi.
Also Read: Congress in pan-India crisis, faces rebellion ahead of Assembly polls
The senior Congress leader had submitted his resignation to Chavan on Monday. Rane is reportedly upset with the party central leadership which has not been paying attention to his demand of overhauling the party before the Assembly polls. A few days ago, Rane had also said that the Congress high command had not keep its word of making him the chief minister in the last nine years. Rane will be talking about the reasons behind his resignation and his future plans in a press conference on Monday at noon.
Rane had joined the Congress after he quit the Shiv Sena in 2005, with the expectation that he would get the chief minister's chair. But his dream was never fullfilled. The senior leader had also offered his resignation in May 2014 after his son Nilesh Rane was defeated by Shiv Sena candidate Vinayak Raut by 1.5 lakh votes in the recently concluded Lok Sabha elections. Rane had served as chief minister for nine months while in the Shiv Sena in 1999, when the NDA government was at the helm of affairs in Maharashtra. In 2005, soon after joining Congress, he was inducted as a minister in the Vilasrao Deshmukh government.
Also Read:
I don't want to be minister in a party that might lose the Assembly election, says Narayan Rane
Resigning from his post of Maharashtra​ Industries Minister, senior Congress leader Narayan Rane said on Monday that he did not want to be minister in a party that might lose the Assembly elections to be held in the state later this year. Speaking to journalists in a press conference, Rane said, "I met the chief minister at 12:30 pm and submitted my resignation, putting forth my points. Congress faced a huge blow in the Lok Sabha elections. After that the government should have taken some stringent steps so that the same situation should not arise in the upcoming Assembly elections, but no such efforts were made by the party."
Expressing his displeasure, Rane added, "Yes, I am angry. Nine years ago when I joined the party I was told that within six months I would be made chief minister, but even after all these years I was not considered for the post. The MLAs who came with me, did not get any ministry portfolio. I am angry because injustice was done to people who came along with me." Read more