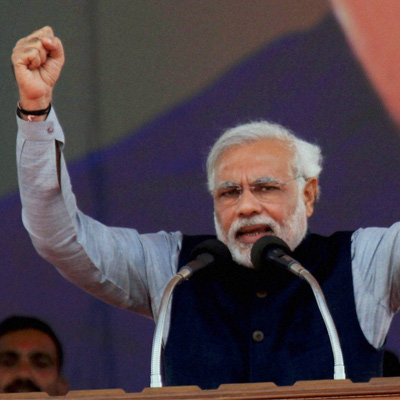 Bharatiya Janata Party (BJP) prime ministerial candidate Narendra Modi will address his 'Hunkar rally' in Bihar's Muzaffarpur district today.
The rally assumes significance as Modi will share dais with Lok Janshakti Party supremo Ram Vilas Paswan who returned to the NDA fold after a long gap of 12 years.
This is Modi's first rally in Bihar since October 2013, when serial blasts rocked Patna killing five persons.
Apart from Bihar Police and para military forces, a large number of Gujarat policemen will also be present to supervise the security arrangements.
Here are live updates:
Narendra Modi addressing Hunkar rally in Muzaffarpur (Bihar) pic.twitter.com/FdRpwUL1Hl

— ANI (@ANI_news) March 3, 2014
"On 28th I came to Patna and the way Bihar welcomed me, paid respect to me, I feel privileged. Without the feeling of brotherhood, peace and unity India can't progress. Now foundation stone of development is about to be laid. Even after serial blasts people of Bihar showed what was peace and unity. I bow to the people of this land. The issue isn't about providing security to us BJP leaders, but to the people, those who died were our brothers and sisters. People from every village in Bihar sent iron for the statue of Sardar Patel. I am grateful to you. This Hunkar is not to show anyone in bad light, but it is to save the country from those who are destroying the nation, it is for our rights. George Fernandes was elected from here. Lets pray for his health so that he can continue to serve nation. Our priority is to find solutions to the country's problems, our rival's priority is to find a solution to Modi. Write it down, the upcoming decade will belong to development, progress of the poor,marginalised, Dalits. Third front is there to help the Congress party. Third front consists of parties which have constantly saved Congress, sometimes by will and at times due to fear of CBI. In democracy there is no place for hypocrisy, public never forgives hypocrisy. After 60 years of independence there is no proper sanitation facilities, women need good sanitation facilities, aren't they entitled to it? 8,50,000 registered their names in the unemployed list, this govt which boasts of development gave employment only to 2000. Terrorism is a threat to humanity. Unfortunately, Bihar has become a brewing ground for terrorists due to Govt's vote-bank politics. Need to fight terror, terrorism in one voice, rising above politics only then will the common man feel secure. You say we require jobs, they say secularism is under threat! It has become a trend to say secularism is under threat for every problem. For them secularism is appeasement for all, justice for none, for us justice for all, appeasement for none. For them secularism is 'religion first', for us secularism is 'India first'. I say stop price rise, corruption, violence against women, they say stop Modi, only agenda is to stop Modi. I say progess should be paramount, they say let's destroy Modi, " says Narendra Modi.
Earlier, Ram Vilas Paswan spoke at the rally.
Ram Vilas Paswan speaking at BJP's Hunkar rally in Muzaffarpur (Bihar) pic.twitter.com/mp1hODftTF

— ANI (@ANI_news) March 3, 2014
"You are here to strengthen NDA and to bring a change in govt under the leadership pf Narendra Modi. Both Nitish Kumar and Lalu Yadav used to praise me, say they would like to see me as PM, now I have entered alliance with BJP so have become bad. There have been no riots in Gujarat after 2002, but they happen every day in Bihar. Congratulate Narendra bhai for coming to Bihar again after he was 'welcomed' by blasts in Patna. Want to see Narendra bhai as the future PM ," says Ram Vilas Paswan.