20-year-old rape victim speaks out as pressure builds on Modi government to sack MoS Nihalchand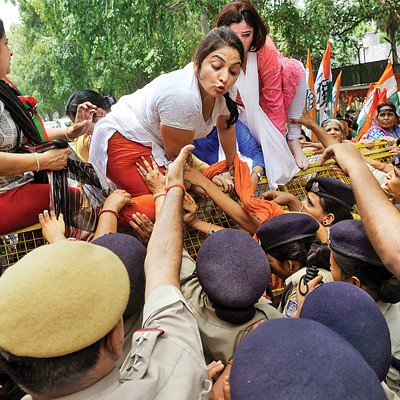 A 20-year-old woman, who was allegedly raped by 17 people, including her husband and a man who is now a Union minister, has said that she can't stay in once city or town for long due to constant threats.
Pressure has been mounting on the Narendra Modi government to sack Union Minister of State for chemicals and fertilizers Nihalchand Meghwal, who was accused of rape and sexual molestation by the woman in 2011. At the time, the woman was 17 years old. She claimed that she was sexually abused and exploited by 17 people, including Nihalchand, her husband and a senior police officer. In 2012, the Rajasthan Police closed the case, saying the charges were false and fabricated. The woman then approached a district court which, too, dismissed the charges. The victim then filed a review petition, following which an additional district judge issued notices to Meghwal and 17 others last week, asking them to respond by August 20.
On Wednesday, the woman told dna that she will seek an appointment with the prime minister to demand Nihalchand's immediate ouster. She also alleged intimidation by the minister's henchmen.
"I keep moving from one place to another as I receive death threats almost every day. The minister's men come to my village every day. I am living in perpetual fear," she told dna. "Modiji is a good man and I am sure I will get justice. I want the CBI to probe the matter as the police has failed me and operated under influence. They have not even recorded the statements of the accused."
The woman said that Nihalchand sexually abused her on at least two ocassions. "I was drugged and abused sexually for at least six months. I remember two instances when Nihalchand abused me sexually," she claimed.
She alleged that Nihalchand is trying to hush the matter by offering her a job and simultaneously threatening to hurt her family if she does not step back. "They want that I should remove the name of the minister from the accused list. But how can I forget the horrible experience that devastated my life," she said. "They threatened to kill my sisters and younger brother. I along with my family need immediate protection."
Suring one of his press conferences, Nihalchand refused to answer any questions in connection with the case. The BJP has so far rejected the demand for Nihalchand's resignation. "There was already an inquiry conducted during the Congress regime in Rajasthan. He (Nihalchand) was absolved of the charges. Now there is a court order and he is cooperating in the investigation. Unless, there is a conclusive framing of charges against him, why should he be asked to step down," said party spokesperson Captain Abhimanyu.
Meanwhile, the National Commission for Women has said that it will write to the Prime Minister demanding the minister's dismissal. "This is really unacceptable. Even when a minister commits a heinous crime like rape, the punishment meted out to him should be the same as that for a commoner... The minister must be immediately dismissed from government," NCW chairperson Mamta Sharma told reporters.