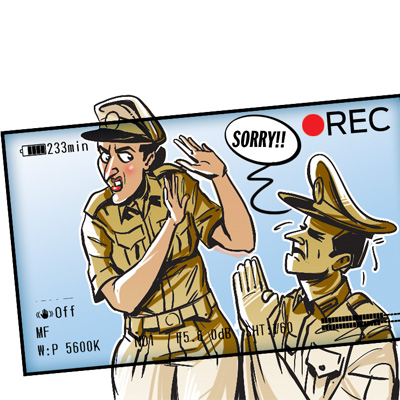 In a state fast becoming notorious for rapes and other heinous crimes against women, it will come as another setback to know that some police officers are perpetuating sexual assault.
A DIG in Meerut recently professed his love to a woman sub-inspector (SI) and tried to sexually harass her in his office while another inspector in Muzaffarnagar is facing charges of eve-teasing a woman constable.
Interestingly, the woman SI, posted at the Police Training School (PTS), Meerut, has even done sting operations, making secret audio-visual recordings of the DIG apologising profusely, and his wife beseeching her to withdraw the case. The SI released the footage to a regional channel which promptly aired it.
Social activist Nutan Thakur has taken up her case with the UP Police top brass. "The victim has written to me, sent me all the documents on email and authorised me to fight the case on her behalf," she told dna. She has written to UP DGP AL Bannerji in this regard citing the Supreme Court orders in the famous KPS Gill vs Rupan Singh Deol case.
In her complaint to the police, the woman SI has said that the DIG called her in his room and gave her a chit with "I love you" written on it. He also said "I love you and a hundred times I love you", she stated.
The SI quoted the DIG as saying: "I am not saying all this for sex. You are much more attractive than the other women here. Do you think I can't buy sex. I draw a salary of Rs 1.5 lakh." Then, she stated, he caught her hand and kissed on it. "He also caressed my cheek and said 'you can't tell what my feelings are for you'," she said in her plaint.
The DIG called her again to his office the next day and said similarly suggestive things and made sexual advances. When she refused to go to his office, he sent other officers to force her to come to his office.
After she made a formal complaint, he called her to apologise. The woman SI recorded the entire footage where the DIG is seen apologising profusely and pleading with her for mercy.
He also sent his wife to meet the aggrieved SI. Once again, she recorded the audio-visual wherein the wife implores her to withdraw the case.
The police, meanwhile, seem to be trying their best to hush up the case as it involves a senior IPS officer. The SI had lodged an FIR under sections 354 (non-bailable offence for criminal assault on woman with intent to outrage her modesty) and 503 (criminal intimidation) of IPC besides other sections. But these two sections were dropped by the local police, obviously to facilitate immediate grant of bail to the DIG.
Instead, the woman investigating officer (IO) watered down the case and registered the case under 354-A (forceful physical contact and passing lewd remarks etc) and 509 (word, gesture or act intended to insult the modesty of a woman).
In Muzaffarnagar, a woman police constable has alleged she was eve-teased by a police inspector. An inquiry has been ordered into the matter.
SP (city) Sarvan Kumar said the woman constable had charged Inspector Ranvir Tomar, the police control room in-charge, with harassing her for a month. Tomar told reporters that the constable was implicating him as he had pulled her up for not reporting for duty on time.