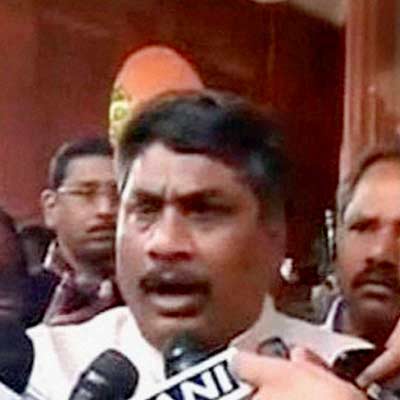 L Rajagopal, the expelled Congress MP from Andhra Pradesh who used pepper spray to disrupt proceedings in the Lok Sabha on Thursday, said that he used a pepper spray as he did not want to use a lethal weapon to protect himself from 'divisive forces'.
"I have always been carrying pepper spray in my pocket for self-defense because I am under great threat from divisive forces. I had to use it for self protection and that is exactly what I remember in what I was doing," said Rajagopal.
"Pepper spray is a device that women use for their own protection, and I did not want to use any lethal weapons. Therefore, I used it. I am a person who never uses any security, and hence, I carry a pepper spray in my pocket all the time," he said.
"I know how these divisive forces create a ruckus. Congress Party talks of democracy although they could not sort things out with their own ministers who were protesting and have only been playing a blame game," he added.
He further said that the attack had been initially attempted on a Telugu Desam Party (TDP) member.
"I used the spray the moment they started attacking me, after I protested against them attacking a TDP member," said Rajagopal.
"If they are thinking of suspending me, they should suspend the entire Congress lot who came to the well," he added.
Rajagopal used pepper spray to disrupt proceedings in Lok Sabha soon after the Telangana Bill was tabled.
As soon the bill was introduced in the Lok Sabha by Home Minister Sushil Kumar Shinde, two sets of MPs - for and against Telangana - rushed to the Well of the House.
Two groups of protesters also clashed outside Parliament and a heavy contingent of police arrived to remove them as the volatile political atmosphere spilled onto the streets.
Earlier, Parliament was adjourned till noon following an uproar over the demand for a separate Telangana state and other issues.