Here what happened, how it happened and as it happened
Even as Wikileak's recent denial of any endorsement of Narendra Modi takes the internet by maelstrom, BJP leaders queue up to say that we never actually said that, and blame AAP and Congress for maligning campaign against their supreme leader.
So here's what happened; Wikileaks, an organisation run by information 'hactivist' Julian Assange, earlier today, put out a tweet from their official account denying that they ever endorsed BJP's prime ministerial candidate Narendra Modi.
Narenda Modi's #BJP has been pushing this fake #Modi endorsement http://t.co/kyryXQpmht - but #Assange has never said anything about #Modi

— WikiLeaks (@wikileaks) March 16, 2014
In fact, they shared a link which elaborates on what Wikileaks does actually say about, and not all of it is very flattering:
What #WikiLeaks says about India's Narenda Modi http://t.co/TA1H8UdvC8 #india #narendamodi @ArvindKejriwal #modi #Gujarat #bjp

— WikiLeaks (@wikileaks) March 16, 2014
#India: No WikiLeaks document say #Modi is 'incorruptable', rather he is popular because 'viewed' as 'incorruptable' https://t.co/leCkQ8PNSK

— WikiLeaks (@wikileaks) March 16, 2014
Why did they need to do that?
Well, for the past few months, certain online memes, such as the ones below, are being shared across social media which allegedly show Assange quoting an endorsement of Modi.
#India: Here is the BJP's Pritti Ghandi pushing fake #Assange endorsement of #Modi to 40k people https://t.co/kh8HsMlgqi

— WikiLeaks (@wikileaks) March 17, 2014
Americans scared of Modi's Honest----Julian Assange, Wiki laeks founder pic.twitter.com/WQMNvw5IC1

— Ramesh Choutapelly (@choutapelly) August 30, 2013
BJP members were, of course, fast to react to Wikileak's tweet, stating either that the claim was never made by them, or that they don't really need Assange's endorsement:
We don't need a certificate from Wikileaks or Assange on Modi ji-MA Naqvi,BJP pic.twitter.com/ep1ZgXY3Vw

— ANI (@ANI_news) March 17, 2014
And Arvind Kejriwal, too, didn't waste the opportunity to say 'I told you so'.
I had already said that all his claims are false-Arvind Kejriwal on Wikileaks's clarification on Modi pic.twitter.com/GtqRtTYggb

— ANI (@ANI_news) March 17, 2014
And that is not to say that Modi and BJP supporters did not take this "unendorsement" very gently.
A Reddit user has taken upon himself to prove this was actually a parody gone too far for the sake of tarnishing the good name of the leader. In his very comprehensive post, he explains how this was first shared by a parody news website.
In reality though, a small internet search into the matter will reveal that the BJP did in fact, mistakenly or otherwise, take a certain cable release by the Wikileaks as a sign of endorsement. Through news reports, dating as far back as March, 2011, and even Modi's own blog receives this cable as a positive sign. Modi states that he is "glad that America admits Modi is incorruptible". Here he is referring to a leaked cable sent by Consul General Michael S Owen to the US government.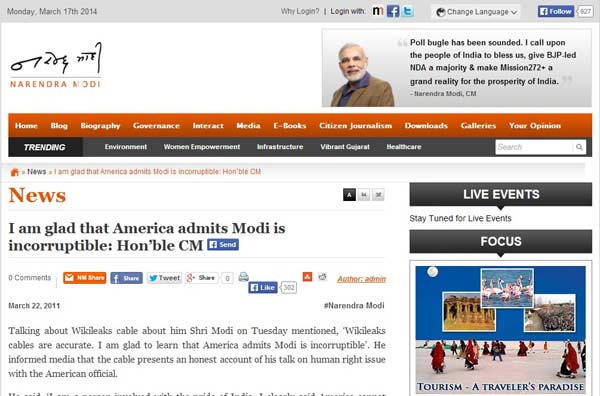 Here's another video interview with Modi where he reasserts this:
However, as is with Wikileaks, they must just tell all. So they went ahead to further point out exactly where in the cable the term "incorruptible was used. Turns out that it wasn't even Owen who called Modi "incorruptible" but rather a Rajkot Congress party leader Manoharsinh Jadeja, who secretly even hoped that Modi would go national "because as long as he was the CM in Gujarat, Congress would face a tough challenge."
The Narenda #Modi "incorruptable" quote comes from Rajkot Congress party leader Manoharsinh Jadej: https://t.co/leCkQ8PNSK #bjp #india

— WikiLeaks (@wikileaks) March 16, 2014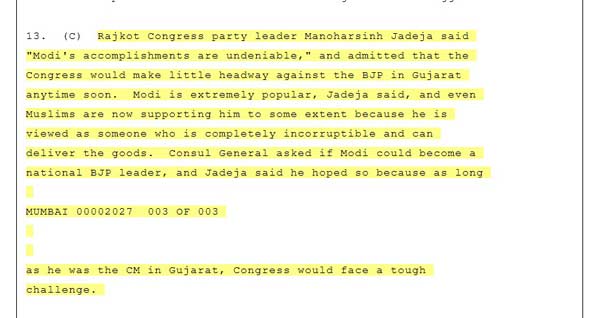 And then some more:
US ambassador: #Modi "insular, distrustful person.. reigns by fear and intimidation.. hoards power.. " (2006) http://t.co/TUD3D3FDG9 #india

— WikiLeaks (@wikileaks) March 17, 2014
US ambassador: #Modi "Is a modest man who.. has not used his position to enrich himself or his family" (2006) http://t.co/HGH3cmovhL

— WikiLeaks (@wikileaks) March 17, 2014
Wikileaks has since been sharing more cables and information from their database on Modi. As disappointed Modi supporters may be over this controversy, it should stand as good reminder to users online not blindly trust and believe unverified information. Just because it's on a meme, doesn't mean it's true.