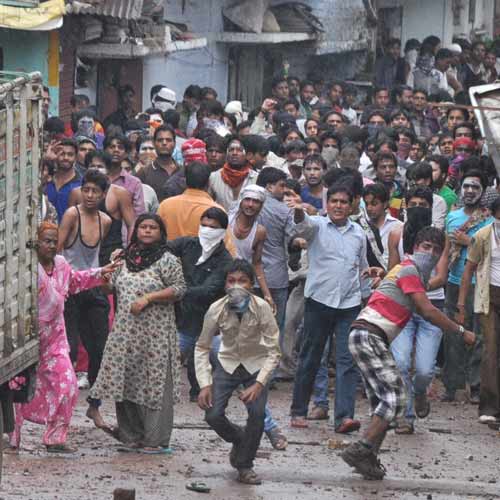 When the firebrand BJP MP from Gorakhpur Yogi Adityanath slammed the Uttar Pradesh government over the occurrence of as many as 600 communal incidents in the state over the past two months alone, he hit the proverbial nail on the head of chief minister Akhilesh Yadav who seems to have failed miserably in containing the spread of the communal conflagration in UP.
UP is slowly, silently but surely turning into a communal cauldron. West UP, in particular, is simmering with communal tension. On an average, the state has been witnessing 10 incidents of communal tension every day, which is "unprecedented", say Home Department officials. The Akhilesh regime's record has been depressing on this count. In 2013, too, as many as 247 riots were recorded in UP, the highest in the country.
Over the 60 days between May 25 and July 25, as many as 600 such clashes took place. However, only 363 are on record. Even out of this, as many as 259 or about 70 per cent were related to west UP, particularly in areas close to the five assembly constituencies where by-elections would be held next month.
"The BJP is fanning communal tensions with an eye on the west UP election in the short term and the 2017 Assembly election in the long term. The SP government is totally non-plussed and it's quite clear that they are hand-in-glove with the BJP in this dangerous game," says UP Congress president Nirmal Khatri.
Giving a more balanced point of view, senior journalist Raj Bahadur Singh says: "It's definitely a political game. The BJP is excited over the way it has wiped out the BSP and Ajit Singh's Rashtriya Lok Dal in west UP (in the Lok Sabha election)." He says the BJP has managed to break the Jat-Muslim combination of the RLD and the Jatav (SC)-Muslim votebank on which the BSP thrived. "BJP has cleverly given out the message that the SP, BSP and Congress have failed to protect their interests due to their dependence on the Muslim vote," he says.
A senior police officer who has spent several years in west UP says there is a certain pattern to the recent communal clashes in west UP. "Almost all of them start with petty disputes, like over paying for tea or food at a restaurant or playing loud music or putting up a loud speaker at a place of worship. Then, suddenly, there is a wave of violence and arson, and things get out of hand before the police even get to know of the incident," he says. "It's almost as if it's done by a remote control. These are just not spontaneous incidents," he asserts.
In Kaanth (Moradabad), the dispute over a loudspeaker mounted on a temple in a Dalit-dominated village let to communal clashes in June. In Saharanpur, a dispute over construction in a gurdwara developed into a full-fledged riot which claimed three lives and left over two dozen injured last month-end. Earlier, in May, violence had broken out in Meerut over a petty dispute between two groups.
Former UP DGP Vikram Singh blames it on a complete failure of the intelligence machinery. "Earlier, the best officers were sent to the intelligence wing. Now, it is considered a punishment posting. What do you expect?" he quips, casting a big question mark over the entire Akhilesh government.
Riot deaths in 2013
All India
Total incidents 823
Deaths 133
Injured 2,269
Uttar Pradesh
Total incidents: 247 (max. in the country)
Deaths: 77
Injured: 360
Maharashtra:
Total incidents: 88
Deaths: 12
Injured: 352
Madhya Pradesh
Total: 84
Deaths: 11
Injured: 256
(UP also tops the table in terms of monthly average with 3.25 deaths, 41.7 injured and 9.8 incidents per month in 2012, and 6.4 deaths, 30 injured, and 20.6 incidents per month in 2013.)
Source: Union govt