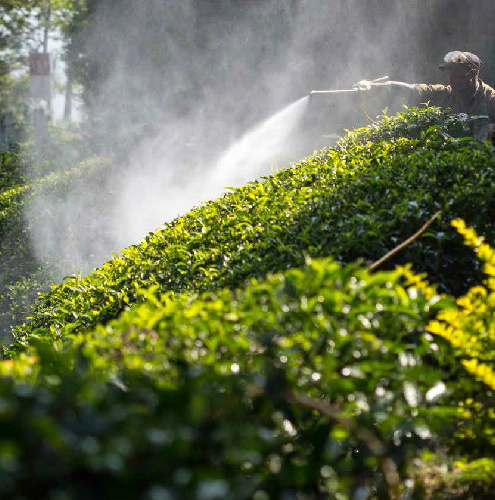 In response to a Greenpeace report alleging high level of pesticides used in packaged tea, Tea Board of India released a statement saying it had reviewed the findings of the report. It asserted that all the samples tested comply with the Indian laws and regulations and were designed to protect consumers. The Board said that Indian teas are safe and follow stringent standards.
Greenpeace India on Monday released its report Trouble Brewing on the level of pesticides in the tea sold by the leading national and international brands in India.
The report says that the tea sold by the top tea brands in India contained chemicals deemed moderately and highly hazardous by the World Health Organisation (WHO). These brands include those of Hindustan Unilever Limited, Tata Global Beverages Limited, Wagh Bakri Tea, Goodricke Tea, Twinings, Golden Tips, Kho-Cha and Girnar.
The board also cited specific steps taken by it for the purpose of making tea cultivation more sustainable and reducing reliance on pesticides. One such step is Trustea, an initiative which will have certified at least 50 million kilograms of tea by December 2014. The program is funded by Hindustan Unilever Limited and IDH–The Sustainable Trade Initiative. The Board also said that its Plan Protection Code aids best practice in tea cultivation.
Hindustan Unilever Limited (HUL), one of the key companies named in the report, told dna that its teas are safe. "We have internal HACCP (Hazard Analysis Critical Control Point) processes for all our factories. Samples of raw materials and finished products are regularly sent to third-party testing laboratories. Our data does not show the presence of any unapproved chemicals and we fully comply with the Indian foods regulations as stipulated by the Food Safety and Standards Authority of India (FSSAI)."
The company is looking to phase out and eliminate the use of the pesticides in tea cultivation altogether in collaboration with its suppliers by 2020. "HUL aims to source 100% of its tea from sustainable sources", the spokesperson said.
A spokesperson for Tata Global Beverages told dna that the company stands by the statement issued by Tea Board of India."Tea Board is responding on behalf of the industry."
Between the period of June 2013 and May 2014, Greenpeace India tested 49 brand of packaged tea sold in India. The brands were chosen from 8 of the top 11 companies that dominate tea market in the country. These brands are also exported to countries such as the United States (US), United Kingdom (UK) and Russia. The findings of the report were not encouraging.
A mix of several pesticides were found in the packaged tea.
Of the 46 samples, residues of at least one pesticide was found in 34 (94%) samples. 29 (59%)of the samples contained 'cocktails' of more than 10 different pesticides. Also, 29 (59%) of the samples also contained residues of at least one pesticide active ingredient above the Maximum Residue Levels set by the European Union (EU). 18 (37%) of the tea samples exceeding these levels by more than 50%.
There was DDT present in 67% of the tea samples. The use of DDT in agriculture has been banned in India since 1989. Monocrotophos, classified as highly hazardous by WHO, was found in 27 samples. This pesticide is not approved for use on tea. Tebufenpyrad, was found in one sample manufactured by Hindustan Unilever. This pesticide is not registered in India, making its use illegal. In high concentrations its said to be toxic for the liver.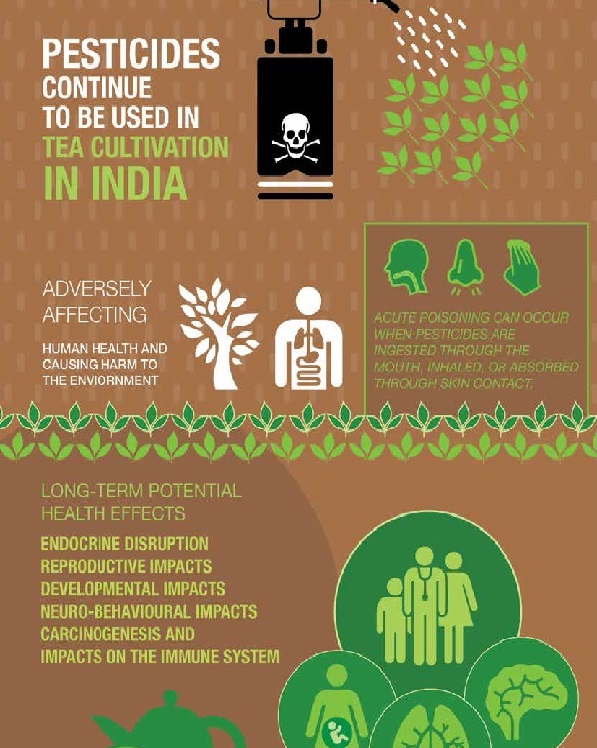 Neha Saigal, senior campaigner for Greenpeace India, called for the tea industry to safeguard the national drink from toxic chemicals. "All stakeholders in the tea industry should come forward," she said.
The reports recommendation was for the industry to turn to ecological farming to get out of the vicious cycle of pesticide use. Greenpeace sent copies of the test results to the companies urging them to phase out pesticides from their supply chains.
According to Greenpeace, only Unilever and Tata Global Beverages Limited responded.
Unilever announced plans to research and create a roadmap to move their tea production to non-pesticide methods of protecting tea crops. It would also engage with Greenpeace to monitor progress as it does so.
Tata responded with a more 'conventional' solution. It committed to minimising negative impact of pesticides by combining biological means with chemical control measures.
"We urge all tea companies to take steps to move the tea sector away from this pesticide treadmill and clean our chai from crop to cup. The tea companies need to support adoption of ecological agriculture approaches like Non Pesticidal Management (NPM) for the sustained growth of the industry as well as safety of the consumers. NPM is already being practiced successfully in the country; it is both economically and ecologically viable," Saigal said.
While maintaining that Indian tea adheres to high standards, Tea Board of India, of which both HUL and Tata are members of, are making concerted efforts to reduce levels of pesticide. But many of the efforts cited by the tea industry to ensure safe tea have come in the last year.
Trustea was launched in July 2013, while the Plant Protection Code, a document on guidelines for safe use of pesticides, was issued to the tea industry in March 2014.
Unilever issued its 'Guidelines on the Use of Pesticides in Sustainable Tea Sourcing' in March 2014 and committed to moving towards non-pesticide methods of crop protection earlier this month.
It is still unclear the amount and degree of pesticides our teas contain.
Given that the Tea Board cites compliance with Indian standards, is it possible that our own regulations may be falling short of what is necessary?