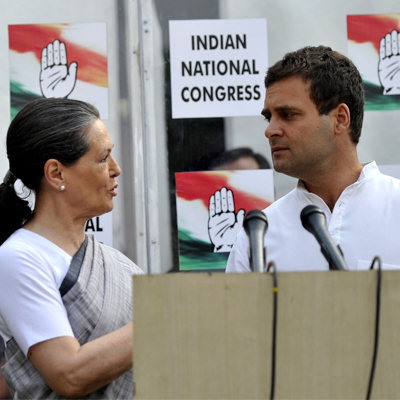 The Congress' White Knight Rahul Gandhi has not only suffered through an embarrassing campaign rife with controversy and personal attacks, the unseasoned and overprotected political prince has suffered a disastrous loss as the Congress numbers have fallen to double digits in the Lok Sabha.
The Congress' numbers have fallen to the extent where it is questionable if they will be the opposition leaders in the parliament. The much criticised second term of the UPA was plagued by a series of scams, instances of corruption and what the nation most widely considers one of the most indecisive and henpecked Prime Ministers in our nation's history.
Rahul Gandhi has however emerged victorious in his family's home turf Amethi however by a margin of 70,000 votes, a shameful display in comparison to his 2009 win by approximately a 3.7 lakh margin. Rahul Gandhi has not only been the butt of an entire nation's jokes but also was constantly prodded by the BJP's PM candidate Narendra Modi who referred to him continually as 'Shehzaada'.
Why is Rahul Gandhi smiling ? Because abhi #RahulGandhi doremon and chhota bheem aaram se dekh sakenge. :D :p #NaMo #NaMo4PM #results2014

— Bubbles Ơ̴̴͡.̮Ơ̴̴̴͡ (@Stylist_Baby) May 16, 2014
Congress has done pretty badly and there's a lot to think about: #RahulGandhi

— ET Politics (@ETPolitics) May 16, 2014
Meanwhile heard elsewhere- if you force your child into a profession, the result will be Rahul Gandhi #Results2014 #RahulGandhi

— Puja Awasthi (@pujaawasthi) May 16, 2014
We have reasons to celebrate. ND Tiwari got married. Digvijay Singh is next. We will soon find a bride for #RahulGandhi also. ~ #Congress

— Kanchan Srivastava (@KanchanDNA) May 16, 2014
I kind of feel bad for #RahulGandhi strongly believe he is in a wrong place were he never wanted to be.Hope Mumma let Rahul do what he want.

— Priyanka Bhatt (@iPriyankaBhatt) May 16, 2014
The finale arrived in the form of a press interview where he and Gandhi matriarch Sonia Gandhi took full responsibility for the Congress' loss and admitting humbly their respect for the will of the nation. She even further went on to say that the mandate was against their party and that they congratulated the BJP on their victory. A statement that does pose a contradiction to the previous days where the Congress openly accused the BJP of divisive politics. The two didn't take an questions after the statement.
Sonia Gandhi : Winning and losing all a part in a democracy, respect people's verdict with all humility #Election2014 pic.twitter.com/LUwBRvnMbZ

— ANI (@ANI_news) May 16, 2014
However in a strange display, Gandhi smiled through the entire interview and looked strangely calm whereas Sonia Gandhi showed a fiery countenance and clearly was disapproving of her son's behaviour. To the extent where he seemed to want to answer the press till he was dragged away, albeit subtly, by Sonia Gandhi.
This begs the question o what extent would Gandhi have been a true leader and not just another Prime Minister who for the most part seemed to be under Sonia's control? Although his defeat seemed apparent right from the get go, the entire blame might not lie on him but perhaps on the Congress' and Sonia Gandhi's insistence to shape him in their image.
Sadly however, as this election season has displayed, the image is far from perfect and left the nation wanting.