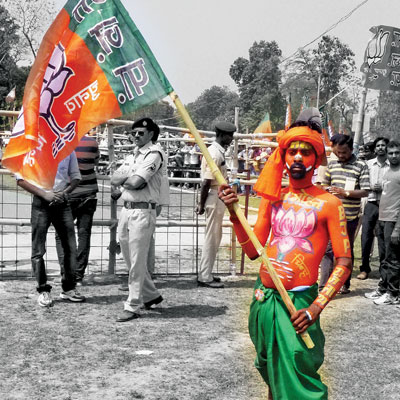 The Northeast region of India had always been a Congress stronghold, until the BJP breached the region making inroads this Lok Sabha Elections.
BJP gained big in West Bengal, winning two seats—Asansol and Darjeeling. This, incidentally has been the best performance of the NDA in the region, with 10 seats in their bag. Out of a total of 24 seats. Congress could only manage 8.
Credit could be given to BJP's poster boy Narendra Modi, who during his several pre-poll visits to the northeast, addressed key issues of massive unemployment problems in the region.
SS Ahluwalia, BJP's national vice-president and party in-charge of northeast, said to a leading newspaper, "During the NDA (National Democratic Alliance) regime headed by Atal Bihari Vajpayee, a separate union ministry, DoNER (Development of North Eastern Region), was set up and the 'Look-East policy' was launched to promote the region."
"But the Congress-led government did not utilise the ministry for the development of the region," he said.
Ahluwalia, who was elected to the Lok Sabha from Darjeeling in West Bengal, said many projects related to railways, roads and bridges launched by the NDA government had been put on hold, by the Congress led government.
Talking about the performance of the BJP in the seven sister states, the party could not win any seats in the Left-ruled Tripura and Congress-led Manipur and Meghalaya, but did secure a record number of votes in these regions. In the state of Assam, the BJP won a majority 7 seats, leading to the resignation of Assam chief minister Tarun Gogoi, a Congress man.
The two seats of Arunachal Pradesh were shared by the BJP and Congress.BJP's Kiren Rijiuji won from Arunachal West, and Congress's Ninong Ering won from Arunachal East.
The lone Lok Sabha seat in Nagaland went to Ruling Naga People's Front (NPF) nominee and Chief Minister of Nagaland, Neiphiu Rio.
Sitting Lok Sabha member CL Ruala of the ruling Congress was re-elected to the lone Mizoram Lok Sabha seat.
Of the 25 Lok Sabha seats in the eight northeastern states, this time the BJP and its allies got 10 seats. The BJP on its own bagged seven seats in Assam, one seat in Arunachal Pradesh while its allies -- Naga People's Front (NPF) in Nagaland and National People's Party (NPP) in Meghalaya got one seat each in the two northeastern states. The Congress got eight seats.
In the 2009 polls, the Congress and its allies secured 14 seats across the region while the BJP and its allies managed to win six seats.