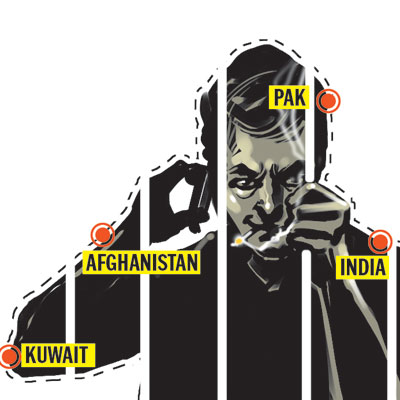 One of the major drug trafficking networks in India is currently believed to be handled by a 32-year-old south Indian drug lord, operating and guiding the dangerous network from a jail in Kuwait.
Though he's been in a Kuwait jail for more than seven years, investigating officials in the capital claim he has a well-established network in Afghanistan and Pakistan, from where he pushes drugs, especially heroin, into India.
With the drawdown of US-led Nato forces from Afghanistan later this year, heroin trafficking via India, a Narcotics Control Bureau official said, is bound to increase manifold from next year.
The border with Pakistan in Punjab, Rajasthan and Jammu and Kashmir has been infested by this drug network transporting huge quantities of drugs into the country. Investigating sleuths claim to have intercepted the telephone calls made from Kuwait to Pakistan and India as well as detailing the various drug deals.
"We are trying to know more about this network and get the complete and clear identity of this drug lord who is in a Kuwait jail. We are amazed because he manages to operate from a country that has very strict drug laws," said a senior officer of the Delhi poice's special cell that is investigating the network.
In Kuwait, as per the latest reports, 260 Indians are lodged in jails, out of which 137 face criminal charges related to drugs. In a June advisory, the Indian embassy in Kuwait expressed concern over the increasing arrests and detentions of Indians in connection with possessing drugs. The embassy issued details about the drug types, precautionary measures and urged Indians to obey rules and regulations of the country.
The Kuwait embassy in the capital, however, did not respond to dna's emails seeking information regarding the drug networks run by Indians from Kuwait.
The seizures made by various agencies from along the Punjab border show how much heroin is transported to India. The special cell has seized at least 88kg of heroin worth several crores pushed into India from Pakistan in 2013-14. Similarly, the BSF posted on the Punjab border has seized 340kg of heroin being transported from Pakistan in 2014. Last year, as per the Narcotics Control Bureau (NCB), at least 737kg of heroin and 964kg of opium were seized along the Punjab border. According to the BSF there is a check post every 3-5km on the international border.
"What we catch may be just 5-10% of what is trafficked," said a senior intelligence official who's been monitoring a drug network in Punjab for a year now. Sometimes a small cache of drugs is allowed in to extract information about a bigger consignment.
The Kuwait network, a special cell officer said, works on the basis of demand-supply. Once he receives order over phone, the 32-year-old drug lord activates his networks in Pakistan and Afghanistan and the drug is transported to the Indian border. "The consignment is taken to south India and then to various South Asian countries, including Sri Lanka, the Gulf and Europe via the air and sea route," said a senior NCB officer.
Some of the drug parcels are even transported back to Kuwait, said another investigating officer, to cater to the local market. "Minions are paid in cash, while huge transactions happen through hawala," said a senior intelligence officer.
Even though security at airports and seaports across the country is very sensitive in case of explosives, drugs continue to remain a lesser priority. "Even at the IGI airport, there are no machines to scan baggages for drugs. The seizure just happens on human intelligence or suspicion," said a senior CISF official. The CISF manages security of more than 50 airports across the country.
A senior NCB officer said routing drugs through India is easy as parcels from India are not checked thoroughly at other seaports or airports. "A parcel coming from Pakistan or Afghanistan is scrutinised more in foreign countries," he said.