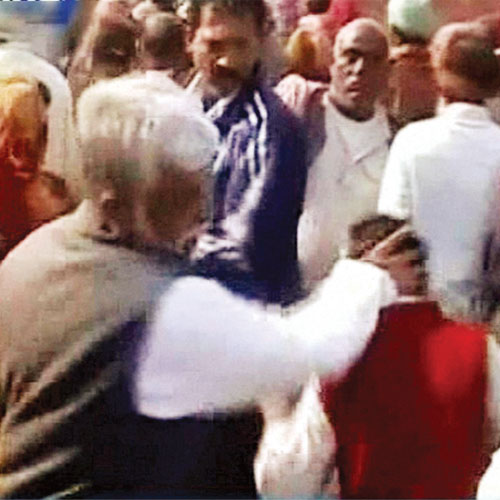 Samajwadi Party leaders, including ministers in the Akhilesh Yadav government, continue to wreak havoc with the law and order in the state. In fact, reports of such 'dabang' leaders creating nuisance of some kind or the other have become routine. With the party leadership turning a blind eye, such incidents could cost the SP dear in the Lok Sabha elections.
Mulayam Singh Yadav hasn't been able to do much to rein in the trouble-makers. "I have been reading reports of party leaders indulging in 'goonda gardi'. I am warning you that anybody involved in 'goonda gardi' will be thrown out of the party, whoever he might be," he recently told the party workers.
Even party general secretary Ramgopal Yadav said at a public function recently, specially addressing the chief minister: "Whatever development work you might do would be useless and you will not be able to return to power unless you improve law and order." He said some party leaders were openly indulging in 'gundai' (hooliganism) and land grabbing.
The SP brass may be worried on this count but no leader has an answer to why mafia don Atiq Ahmed, facing more than 40 serious criminal cases, has been re-inducted into the party and given the Lok Sabha ticket from Sultanpur. SP sources say mafia don Mukhtar Ansari, presently in Agra jail, and Madan Bhaiya, a notorious character of west UP, are also likely to get party tickets.
Akhilesh Yadav has been harping on law and order being his top priority but finds his hands tied due to his fahter's brand of realpolitik.
Aamir Madni Rushdie, president of All India Ulema Council, points out another reason for the situation: "The entire police force in the districts is full of Yadavs. From the constables to SHOs, everywhere you find Yadavs, and all of them claim to be relatives of Akhilesh and Mulayam. In such a situation, what kind of law and order can you expect?"
Political watchers say the present situation in UP is a repeat of the scenario that prevailed under Mulayam's regime just before the 2007 assembly elections in which the SP was wiped out because of the stigma of "goondaism" which seems to have stuck with the party. If the SP fails to check the 'dabang' culture in the party, the Lok Sabha election results could be equally punishing.
Samajwadi leaders' open show of power
Extortionist MLA
A young girl raped and abducted from Agra is tracked down to the house of Samajwadi Party (SP) MLA Hariom Yadav in Shikohabad. The MLA even challenges the police party and refuses to release the girl unless Rs 2 lakh ransom is paid. Yadav, a relative of Mulayam Singh Yadav, faces several criminal cases, including five of murder. No action against Yadav.
Threat to govt staff
SP MLA from Sihdauli (Sitapur) Manish Rawat threatens a lady teacher to withdraw her FIR against a village pradhan. "They are my people and I will do everything to help them. You better stay out of this or else...," he tells her on telephone. No action is taken.

Fight with policemen
Rifle-toting henchmen of minister of state Ram Singh Rana jostle with the police during a routine vehicle checking drive in Lucknow. Their Tata Safari sports a red beacon illegally and its windows are covered with prohibited black film. Rana, a history-sheeter facing several criminal cases, threatens to get the police men suspended. No action taken.