Research under way in Pune to produce new species of bees with longer lifespan and better honey quality.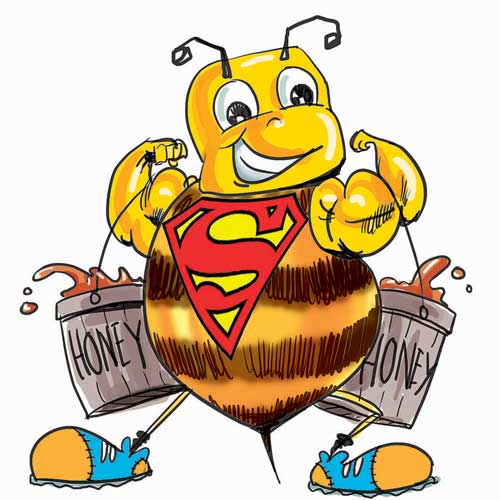 Central Bee Research and Training Institute, the country's premier establishment based in Pune, is working towards creating a super bee. The researchers will cross breed the sepcies from North India with the ones available in south India to produce a new species that will have a longer lifespan and will be able to produce better honey.
The researchers have decided to 'import' bees from Punjab and Jammu and Kashmir to Maharashtra since they claim that the bees in those regions are healthier and fatter as compared to local species. With earlier attempts to import the insects failing as they couldn't adapt to the local climate and died, the team this time will make several halts along the route for the bees to acclimatise to the climate change before the insects are brought to Pune.
The scientists at the institute for the past three years have been working on a project based on technology usually used in European countries to create an artificial bee hive structure to enhance production of honey. However, they got little success.
The institute initiated a project under which repetitive attempts have been made to cross breed the species of bees in India. This will not only help in increasing the number of bees in the country and promote, but also improve the quality of honey that would be obtained from the new species.
Speaking to dna, Central Bee Research and Training Institute's assistant director Daisy Thomas said, "Our earlier attempts at bringing bees from Jammu and Kashmir and Tamil Nadu failed as the insects could not adapt to the drastic changes in climate and died on way. We have now planned to bring colonies of bees taking several halts so that the bees would get accustomed to the gradual changes in climate. So our team of experts would travel with the bee colonies from Jammu and Kashmir to Haryana then Madhya Pradesh to bring the bees here."
The institute said the bees in the northern states are bigger in size whereas the ones in southern parts of India are comparatively smaller. Both of them have their own qualities in terms of lifespan and capacity to collect nectar and produce honey. Hence, cross breeding the two could be beneficial.
"The new breed will have a better lifespan as well as more capacity to collect nectar and will help in improving the quality of honey obtained from them," she said.