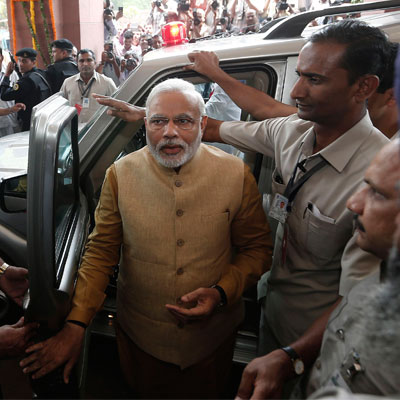 The prime minister designate, Bharatiya Janata Party's (BJP) Narendra Modi today addressed the parliament and spoke at length to the nation regarding what to look forward under as he takes on the role heading the nation. He conveyed his devotion to the people of the nation and at the same time made efforts to allay the fears of his detractors.
Here are some of the highlights:
"Had Atal Bihari Vajpayee been well, his presence would have completed this moment,," an emotional Modi said trying to pay his respect to the former Prime Minister
"Today I'm standing before you as the son of a poor man. This is the strength of democracy," he said while humbly accepting his victory.
"Office is not important, responsibility is," he asserted that the work takes prominence before title.
"Can serving the mother be a favour? A son is only dedicated to serve the mother....The favour has been done by the party." Modi referred to his party th eBJP as his mother and shied away from taking credit for the BHratiya janata Party humungous victory.
"I want to assure the people of the country that there is no need for pessimism going by the past bad experience..." he said trying to allay fears of divisive policies and communalism amongst is critics.
"Sarkar vo ho jo gareebon ke liye soche, jo gareebon ki sune, jo gareebon ke liye jiye, nayi sarkar gareebon ke liye samarpit hai. (An ideal government would be one that thinks of the poor, listens to the poor, lives for the poor, the new government is completely dedicated to the poor" Modi said indicating the pro-reform BJP will take measures to help the poor.
"In a special way, I'm thankful to Advaniji and Rajnathji for giving me their blessings," said Modi in gratitude.
"When we meet in 2019, I will give you and my countrymen a report card... I will live for India," He spoke about his commitment to the nation.