Azharuddin captained the Indian cricket team for much of the 1990s, until being banned for his alleged involvement in a match-fixing scandal.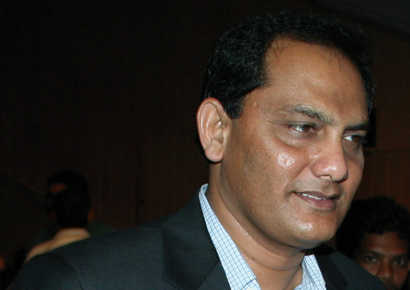 The Andhra Pradesh High Court Thursday termed the life ban imposed on former India captain Mohammad Azharuddin by the Board of Control for Cricket in India (BCCI) 12 years ago as "illegal".
A division bench of the high court set aside the order of a lower court which had upheld the ban. It was on December 5, 2000, that the BCCI banned Azhar from playing cricket for life after being found guilty of match-fixing.
Welcoming the high court ruling, Azhar said his conscience was always clear. While expressing his full faith in the justice system, Azhar said, "I don't think I will play any cricket, but would certainly want to share my cricketing experience with the younger lot."
When asked about the match-fixing charges levelled against him, Azhar chose to brush it aside saying, "It's not fair to talk about Hansie Cronje case now that he is no more."
The cricketing legend then thanked Hyderabad for "backing me in my long struggle". "I am thankful to all my supporters," Azhar said.
However, the Moradabad MP refused to comment on the court verdict. "It has brought a lot of relief and I am happy about the court's ruling," he said.
The Hyderabadi cricketing had challenged the Indian cricket board's decision in the city civil court, which upheld the ban. He then moved to high court against the lower court's order, his lawyers, arguing that the BCCI imposed the ban without any evidence.
The 49-year-old member of parliament from Moradabad constituency in Uttar Pradesh is one of India's most successful captains. He played 99 Tests scoring over 6,215 runs during his career, apart from playing 334 one-day Internationals scoring 9,378 runs in his 15-year international career.