Arvind Kejriwal and his Aam Admi Party were the clear winners in the political arena this year. Vasundhara Raje, Chauhan and Pandhare were not too far behind.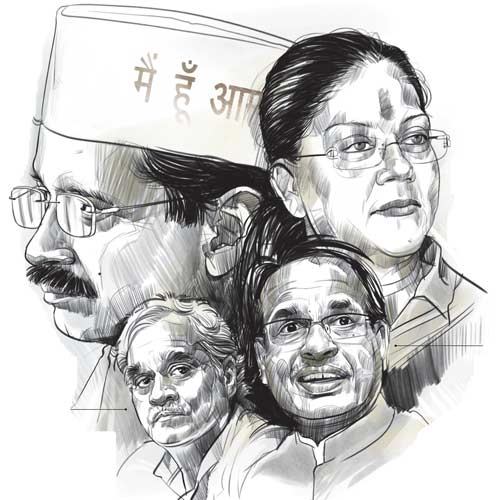 Arvind Kejriwal
He's the man. The common man
Anna Hazare was the face of the Lok Pal agitation in Delhi in 2011, but it was Arvind Kejriwal, the quiet, efficient second-in-command, who was its spokesman, brain, manager and chief organiser. Hazare occupied centrestage, symbolising the aam admi's moral rage against corruption. But it was Kejriwal who worked the online channels — email, Facebook and Twitter — to mobilise support and get inputs to flesh out the Jan Lok Pal. Kejriwal had the flair for detail.
It was this beaver-like quality that has been at work ever since the Delhi associates of the Lok Pal agitation formed the Aam Aadmi Party (AAP) on October 2, 2012, Mahatma Gandhi's birthday.
Kejriwal seems to have learnt something from the Father of the Nation – that attention to detail is the root of big success. He also chose his battlefield well – Delhi. Had he fought the battle in Mizoram or Puducherry or Himachal Pradesh, he may not have drawn the same media attention and become the national cynosure.
Kejriwal did not shy away from media attention but neither did he court it. There were no mass rallies, no thunderous ovations. There was not much of money or muscle power, the two things that parties cannot seem to do without in an election and which keep away ordinary people from the political arena. Kejriwal positioned his party and himself on the rising tide of public sentiment, on their anger and longing for change. He and his party volunteers worked quietly on the ground, doing the old-fashioned door-to-door campaign, away from media glare.
So much so that on election day – Dec 4 – it seemed that the year-old party would just about make its mark in a small way. But fortune favoured Kejriwal and he bested three-time chief minister Sheila Dikshit in New Delhi, a constituency where she had kept the BJP at bay for 15 years. Kejriwal polled 44,269 votes to Dikshit's 18,405 and pushed the BJP's Vijender Kumar to third position with 17,952 votes. The combined vote of Dikshit and Kumar was less than that of Kejriwal.
Kejriwal's triumph is literally that of the common man — he does not exude the charisma or earthiness of Hazare, and did not go through the personal tribulations of the man from Ralegan Siddhi. Kejriwal is middle class, educated, comfortably off. Really, boring. There is nothing heroic about him and he is no spell-binding orator. But there is a certain intensity about his commitment, a zealot's simmering ire against corruption that he has nursed to provide the ballast to his party and cause.
He is the proverbial underdog who did not allow himself to be marginalised into the eccentric, well-meaning crusador. Even in victory he has maintained the staid poker face of bourgeois sobriety and is bargaining without bickering to take power on his own terms.
Vasundhara Raje
The comeback queen
She lost the 2009 assembly polls in Rajasthan because she was considered imperious and had many detractors in the party. But the BJP brought her back because of her proven record as a leader, and the fact that, while in power, she had showed dynamism, a flair for new ideas and desire to improve the economy. She did not disappoint. Sensing the mood in the party and outside, she sought to build her campaign with Narendra Modi's help admitting later that she would borrow from his vibrant Gujarat model. But when overwhelming victory came, there was little doubt that the spoils were all hers.
What is it that makes Raje, who has not really shed her feudal/royal aura, succeed in a democratic set up? She brings energy and a passion for doing things, for one. Also, she is not content to sit back but likes to wield power for the good of the people in the old sense of noblesse oblige. She is willing to bend to accept the new rules of the game and does not feel the need to be populist though she is not against welfare measures. Her eyes are set on modernising the economy and ushering development in Rajasthan. The party leaders have realised that she is a good bet for taking the BJP and Rajasthan forward.
Vijay Pandhare
The whistleblower
He's the whistleblower who set off a chain of events that led to the resignation of deputy chief minister Ajit Pawar. Soft-spoken, unassuming and no-nonsense, 58-year-old Vijay Pandhare wrote to governor K Sankaranarayanan and chief minister Prithviraj Chavan last year detailing inflated costs and irregularities to the tune of around Rs12,000 crore in lift irrigation projects in the state. The allegations set off a political storm and nailed Pawar, who had headed the water resources department for most of this government's tenure.
And now it seems the former chief engineer of Maharashtra Engineering Training Academy, who joined Arvind Kejriwal's Aam Aadmi Party after retiring in November, will contest the Lok Sabha elections as the party's candidate from Nashik.
A native of Khamgaon taluka in Vidarbha's Buldhana district, Pandhare is a prolific writer and speaker on the works of Bhakti saints like Dnyaneshwar and Tukaram; he has written a book on 'Dnyaneshwari', a 13th century commentary on the Bhagavad Gita by Dnyaneshwar. Will social respect and goodwill translate into votes, given that former bureaucrats with a clean image such as Arun Bhatia and Avinash Dharmadhikari have bitten the dust at the hustings?
Shivraj Singh Chauhan
A winner in his own right
The political stakes were high for Shivraj Singh Chauhan as he sought re-election earlier this year for a third term as Madhya Pradesh chief minister. With Narendra Modi looming large, Chauhan did not have elbow room. The BJP was sure of winning comfortably, but the challenge for Chauhan was not so much winning as winning on his own merit. In the last eight years, he had emerged as a popular chief minister and Chauhan wanted to prove his leadership without disturbing the party's plan of projecting Modi as the prime ministerial candidate and also scotch speculation that if he won he would emerge as a challenge to the latter.
Chauhan managed to pull it off. The BJP's third successive victory in Madhya Pradesh turned out to be that Chauhan's, won on the basis of popular schemes like Laadli Lakshmi which provided for Rs 5,000 to be paid into the account of every girl till she turned 18. The message as well as the money had gone down to the villages. The minimum support price Chauhan was offering to the farmers might have been riding on the central government subsidy, but he managed to project it well to win the farmers' approval.
With the BJP's national leaders accepting its victory in MP as that of the chief minister, Chauhan is now unchallenged master of his own state.