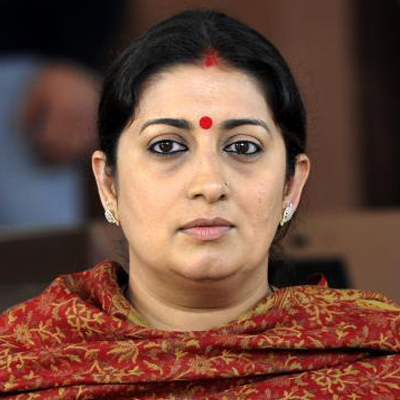 BJP leader Smriti Irani who gave a tough competition to Congress scion Rahul Gandhi before losing from Amethi has been pegged to lead the Human Resources Department ministry (HRD) according to sources.
Here's a short bio of the leader who transversed from television to politics with elan!
Smriti Irani, the woman who played the quintessential daughter-in-law for Ekta Kapoor's Balaji telefilms has been finalised to challenge Rahul Gandhi from Amethi on BJP's ticket.
She will contest against AAP's Kumar Vishwas and Congress' scion Rahul Gandhi in the Lok sabha elections of 2014. Earlier, rumours were strong that this battle would heat up and BJP had confirmed by stating "we will field strong candidates against Rahul Gandhi, Sonia Gandhi and others."
Early Journey:
Her entry into the mega production of serials wasn't an easy deal. No one in the production team wanted her, but the producer's faith is what kept her ticking. Her role was pivotal to the channel and continued to garner views. It was not long before she became a recognised brand- A brand emulating the ideal image of a doting mother, an obedient daughter-in-law and a loving wife.
The start to Smriti Irani's story wasn't quite this rosy. Born to a cross-cultural family, Smriti Malhotra Irani had seen all stages of life. From a stage where she needed to work as a helper at popular fast food giant, Mcdonalds, her days as the Miss India finalist, her on-screen rendezvous, her being sworn in as the National Vice president for a leading political party, the woman did come a long way.
All through her childhood days, she knew she had to support her family. Her ambitions of becoming a journalist were shattered when a news channel she interviewed for rejected her. Her path to stardom started soon afterwards.
Smriti Irani's marriage to Zubin Irani, the estranged husband of model co-coordinator Mona Irani came through in the year 2001, while she was shooting for her popular television soap 'Kyunki Saas bhi Kabhi Bahu Thi'.
By the end of the year she had given birth to their first son and by the end of 2003, she had another baby on the way. Irani left the show in 2007 and in the year 2008 was endowed with the 'Base of Star Parivaar' at the 2008 Star Parivaar awards.
After she had dabbled in a few production ventures of her own she finally set foot into her most promising character ever, that of a politician.
In 2003, Smriti Irani joined the Bharatiya Janata Party (BJP). The party gave her the ticket to the 14th Lok Sabha, from Chandi Chowk in Delhi. Congress candidate Kapil Sibal was also contesting from here. Although she lost the election, she was absorbed as a Vice-President for the Maharashtra youth wing in 2004. In early 2010, she was appointed as the National secretary of the party and was roped in as the president of the Mahila( women) wing for BJP.
Her journey as a politician has been quite eventful. She has been one of the most consistent members of the party. Her constant media presence and her reverberant attitude has made her an influential leader. Irani was selected as the Member of the Parliament in 2011. In 2012, Irani was defamed publicly by Congress MP, Sanjay Nirupam on national television.
Irani has been actively involved in social sector development programs. Her NGO deals with providing water solutions to villages.She has actively worked and faught for women rights.
Her current status as a leader of BJP has received a lot of heated discussions. BJP has always maintained a firm stance of not letting their strong leaders contest from areas where they already face a strong opposition. However this time around, the BJP seems to be making an exception. With them confirming the television megastar as a probable candidate against Congress golden child Rahul Gandhi, the BJP sure seems well planned.
The battle lines have been drawn in Amethi.