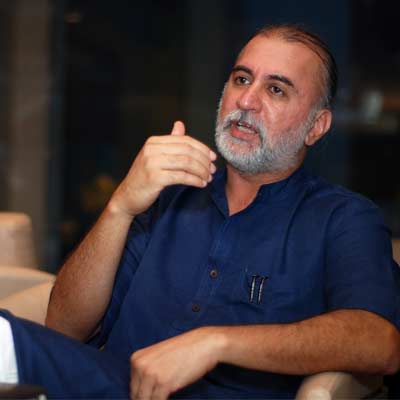 "Oh, how the mighty men have fallen" best sums up Tehelka editor Tarun Tejpal after the infamous molestation and rape case filed against him by a female journalist. Here is all you need to know about him:
* Tarun Tejpal is a journalist, publisher, novelist and former editor-in-chief of Tehelka magazine, an investigative magazine known for its strong political content. In November 2013, Tejpal had offered to step down as editor for six months after a female colleague accused him of sexual assault. Arrested and lodged at the Sada sub-jail in Goa since November 30, 2013, he has now been granted bail.
Was named as 'India's 50 Most Powerful People' in 2009 by Business Week:
* Tejpal, known to be strong and vociferous, started Tehelka as an online portal before making the transition to print.
Though he has a long and strong story behind his success, it should not be mixed with the controversy he has landed himself in. While the justice system will take its course, what we all expect from the judiciary is justice.
* Tejpal began his career in the 1980s with the The Indian Express and he moved to New Delhi to join a magazine, now defunct, called India 2000.
* In 1984, he joined India Today magazine, then The Financial Express in 1994 and later helped found the rival publication, Outlook, where he worked for several years.
* Meanwhile he founded a publishing company called India Ink which published Arundhati Roy's Booker Prize winning novel The God of Small Things in 1998.
* He left Outlook in March 2000, to start tehelka.com, an online independent news and views magazine which soon came to be known for its sting investigations
Tehelka and Tarun Tejpal:
* Tehelka was founded by Tarun Tejpal along with Aniruddha Bahal in 2000 as a website and began issuing tabloid newspapers in 2004. It changed to a magazine fromat in 2007.
* Tehelka's first sting operation was on match fixing in cricket in 2000. The second, which was its most widely known, was 'Operation West End' in 2001.
* West End involved publicly releasing secretly filmed footage of government officials accepting bribes in a fake arms deal, which caused the resignations of several officials including the defence minister and two presidents of the ruling parties back then.
The recent controversy and the fall:
* The sexual assault allegations against Tarun Tejpal created havoc for Tehelka as details of ownership, board of directors and financials further came under scrutiny.
* The controversy erupted over ownership as political and business houses held partnership in the company roster. For example, Trinamool Congress (TMC) Rajya Sabha member KD Singh also owned a part of this company while Anant Media Private Limited owned it.
* Anant Media had Alchemist group as a major shareholder and this conglomerate was investigated by the Serious Fraud Investigation Office.
Related Reports:
Last week, the Supreme Court granted regular bail to Tejpal in the sexual assault case filed by his colleague, with a warning that it would be cancelled if he tries to tamper with evidence or induce witnesses.
A bench headed by Justice HL Dattu, however, said denial of bail to him would curtail his liberty and would come in the way of him getting fair trial if he remains in jail. The bench, also comprising justice SA Bobde, which imposed stringent conditions for his release on bail, said it was not disposing Tejpal's petition and keeping it alive so that violation of any one of the conditions by him would enable the Goa police to immediately move the apex court for the recall of the bail order.
It asked the trial court judge in Goa to expeditiously complete the trial in the case, preferably within eight months.
The Supreme Court did not agree with the Goa government's contention that reasonable apprehension of influencing witnesses and Tejpal's past conduct in this regard should be considered as grounds for denying him regular bail.
The bench also disagreed with Additional Solicitor General (ASG) Neerak Kishan Kaul, who was appearing for Goa Police, that Tejpal should be kept in jail till the victim and four of her friends, named as prime witnesses in the case, record their testimonies in the trial court.
While opposing the bail plea, the ASG alleged that "there has been systematic attempt to attack the victim's psyche and there have been a chain of events in the past months indicating reasonable apprehension of tampering with evidence".
The Goa government opposed 51-year-old Tejpal's plea, saying that the victim and her boyfriend were getting threatening emails from some phishing sites and they seemed to be under some surveillance. The bench asked senior advocate Salman Khurshid, appearing for Tejpal, to convey to his client that any violation of the bail conditions by him directly or indirectly would invite trouble for him.
Read: Tarun Tejpal's Tehelka journey to end soon
The bench noted that the investigation into the case has been completed and a chargesheet filed but speedy trial in the case is not possible as 152 witnesses have been named and the trial process will take at least three years. The bench said Tejpal cannot be kept in jail till then particularly after the probe has been completed and chargesheet has been filed.
"He has not been convicted. He is just an accused. At the end of the day it is his freedom and he is also entitled for fair trial which also means freedom to meet his counsel," the bench said. "If the court does not come to the rescue of this person then do you not think that liberty of the person is curtailed?"
The bench asked Goa police which vehemently opposed the regular bail for Tejpal and submitted that he should remain in jail till four key witnesses were examined.
While granting bail, the bench directed Tejpal to surrender his passport and made it clear that he would not seek any adjournment of the trial proceedings and attend the court on every date. The bench said in case there would be any urgency requiring Tejpal's abesence from the trial court, his counsel would have to inform the court.
The Supreme Court had on May 19 granted Tejpal interim bail for three weeks to enable him to attend the cremation of his mother, who had died on May 18, and subsequent rituals. The interim bail has so far been extended twice.
Tejpal has been chargesheeted for allegedly raping, sexually harassing and outraging the modesty of a junior colleague during an event held at a hotel in Goa in November last year. Tejpal was arrested on November 30, 2013 and is presently out on interim bail. He has been accused of sexually assaulting the victim on November 7 and repeating the offence the next day.
Before being released on interim bail, he was lodged at Sada sub-jail in Goa's Vasco town.