Villagers decide to choose the deputy sarpanch without human interference, let a fly decide instead.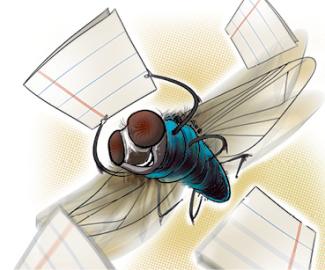 Pune : Here is an interesting selection process of the deputy Sarpanch ( the elected head of a village) of a village called Satkarshtal in Khed taluka .
Resignation
Satkarshtal village has a population of close to 5000 and has the literacy rate of 80 per cent and the village comes under Khed taluka and is located 45 km from Pune city.​ After the resignation of the existing deputy Sarpanch the village Gram Panchayat decided to select a new deputy Sarpanch. They followed the random chit method like many other villages do by pooling the names of the interested candidates. However there was a twist to this method. It was decided that on whichever chit a fly would sit, that person would be declared the deputy Sarpanch and the selection was done thereafter in which a lady member of gram panchayat was selected for the position.
Not the first time
This is not the first time, the villagers are using this unique method to select the deputy Sarpanch position. It all began last year. While speaking to dna, the outgoing deputy Sarpanch of the village Devidas Satkar said that the objective behind adopting this unique method in the selection process of Sarpanch and deputy Sarpanch was to bring transparency in the entire selection process. Before adoption of this interesting technique the village followed a rather standard procedure of selection wherein chits with candidate names would be made and then someone would be asked to pick one. "However there were some disputes that arose because of this procedure which resulted in us adopting a method which would not have any human interference at all," he added.
He further added that last year, when they were discussing about what method of selection could be adopted they were sitting at the village temple. There happened to be several flies in the room, that is when a proposal was presented for using the flies. Last year, there were five members in the panel who had won the gram panchayat elections and it was decided that every year, there will be one person from this elected group for the position of the deputy Sarpanch of the village.
The new deputy Sarpanch
The newly elected deputy Sarpanch,of the village Sanjeevani Thigale said that after Satkar the previous deputy Sarpanch completed his one year, he resigned after which the election process began again. We made four chits with the names of an aspirant written on each respectively. These were then laid down on the ground after which members waited patiently untill one of the flies sat on one of the chits. "The fateful fly then sat on the chit, which had my name on it and just like that I was declared the deputy Sarpanch of the village," she said.
She said that they would continue this method in the coming year as well and as an when it is necessary.