It's everyone's catch as fish prices fall to Rs 2 a kilo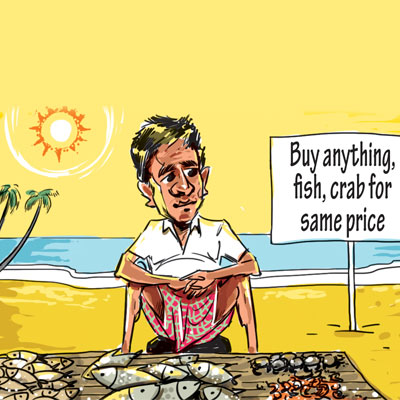 An unprecedented heat wave on the east coast has led to a glut in the domestic fish market in Seemandhra. Fish prices have nose-dived, and at some places in the coastal fish markets of East and West Godavari districts, one can get a kilo of fish for as low as Rs two.
Approximately 15 tonnes of fish were sold at such throwaway prices on Thursday and about two tonnes of dead fish that remained unsold were thrown into the sea in the coastal districts of Andhra Pradesh. In some districts, prices hovered around Rs15-25 a kg for almost all varieties. 'Buy anything, fish, crab for same price ' was the common slogan in the popular fish markets of Kaikalur, Bhimavaram and Palakollu in West Godavari district.
Excluding the export varieties, the local fish brands of Katla, or Rohu and Seelavathi, are being sold at Rs two per kg in the markets of Akiveedu, Kalla and Bhimavaram of Godavari districts for the past one week as the fishermen are unable to stock it. The fish tanks where they are bred are going dry due to high temperatures of up to 50 degrees celsius.
On Thursday, as many as 48 persons had died of heat wave on the east coast and nearly seven tonnes of fish were wasted as they could not be sold as well by afternoon. "The fish are not earning even the cost of ice which is about Rs15 per kg," lamented Bandla Ramesh, a fish tank owner of Kaikalur in Bhimavaram.
East and West Godavari districts account for the 40 per cent of fish production in Andhra Pradesh, and nearly 42,000 hectares of land is exploited for aqua culture in the districts. The warm sea water besides high temperatures has led to the current disaster. A mix of fresh water and sea water is needed for the breeding of fish and shrimps.
Following the distress call of fish tank owners and fishermen, the Chandrababu Naidu government has asked the state marketing department to buy fish and keep them in cold storages. "We are organising some mobile cold storage units and saving the fish crops," said AP fisheries minister P Pulla Rao.
The officials of the fisheries department, however, blamed it on the greed of the farmers."The density of fish seedlings raised in tanks is the real cause. Instead of 5,000 seedlings in each tank, the farmers had dumped 10,000 to 15,000 seedlings leading to the present crisis,"' says VV Krishnamurthy, deputy director of fisheries of East Godavari district
This is not the first time that such a glut has occurred in the fish market of east coast towns and cities. Similar glut had occurred in 2009 when tidal waves had brought tonnes of sea fish, crabs, oysters, caviars on to the east coast villages and towns.