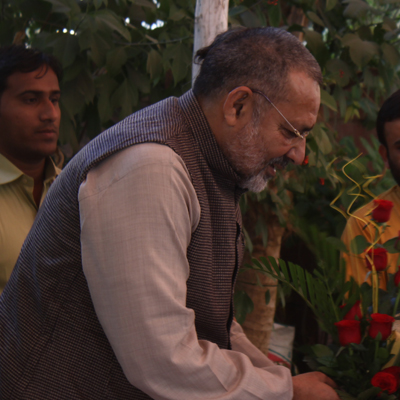 Police in Jharkhand registered a complaint against the Bharatiya Janata Party (BJP) leader, Giriraj Singh, on Sunday who said there was no place for people in the country who opposed BJP prime ministerial candidate Narendra Modi.
Stirring up a controversy, Giriraj Singh, on Saturday had said people opposing Modi, have a political Mecca Medina in Pakistan and do not want India to stand united.
Sub divisional magistrate of Deoghar, JJ Samanta, said the contents of the speech were investigated and it was found to be inflammatory by nature and therefore a clear violation of the model code of conduct during elections.
"The CD content proves that to garner more votes, they have incited religious and casteist sentiments," Samanta said.
The Congress party has already made up its mind to complain to the election commission and demand action against the leader.
Lashing at Singh, External Affairs Minister, Salman Khurshid, said it was very sad that BJP leaders were speaking the language used at the time of the Partition of India.
"I reject it completely, we all reject it completely. This is the mentality that caused the partition of our country. Pakistan may claim whatever it likes we in India don't accept that a nation can be based on religion. We don't accept it, we don't reject it, we repudiate it. It may have become a reality because of historical circumstances but on ideological basis we have always rejected. And I am surprised and I am distressed that the BJP leaders are speaking the same language that those people spoke who divided India," Khurshid said.
Meanwhile the BJP has defended Singh and said the matter was been blown out of proportion.
"He is a strong but a very nice man. It is possible that while speaking he said something like this, as some people lose control while speaking with enthusiasm but it doesn't mean he is a wrong man. He is a good man," said Shatrughan Sinha, a BJP leader.