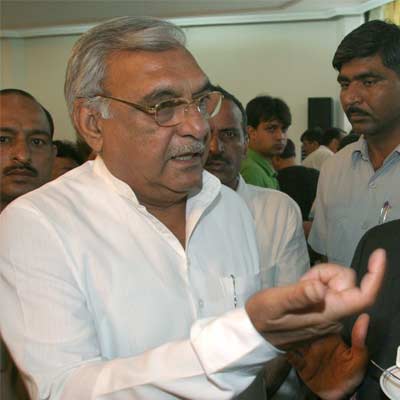 Ahead of the Assembly polls, the Haryana government on Sunday announced a slew of incentives for ex-servicemen and personnel of the armed forces. These included employment to dependents of martyr soldiers who sacrificed their lives in war of 1962 or in any war thereafter, increase in pension of children of martyrs and in amount of "kanyadan" being given on wedding of daughters of ex-servicemen.
At a function of ex-servicemen at Jhajjar, Chief Minister Bhupinder Singh Hooda also announced construction of flats to be given at concessional rates to serving soldiers, ex-servicemen and para-military personnel.
He said government would provide employment in Group C or D category to one dependent of those martyr personnel of armed forces and paramilitary forces who were domicile of Haryana and had sacrificed their lives in the war of 1962 or in any other war thereafter.
Hooda also announced increase in the pension being given to children of martyrs from Rs 200 to Rs 500 per month and said that from now on the wedding of daughters of ex-servicemen, a financial assistance (Kanyadan Rashi) of Rs 51,000 would be given instead of Rs 21,000. He also announced free travel facility in Haryana Roadways buses for Gallantry Award winning soldiers.
The Chief Minister said that those ex-servicemen and serving soldiers who would take loan from banks to get flats allotted by state government at concessional rates, government would bear the burden of their interest.
He said government has decided to construct 50,000 residential flats for serving soldiers, ex-servicemen and paramilitary personnel and allot these at concessional rates. The first phase of construction of these flats has already begun and registration for flats has also commenced at Faridabad, Gurgaon, Mahendergarh, Jhajjar, Panchkula, Pinjore, Rohtak, Palwal, Rewari, Sampla and Bawanikhera, Hooda said.
Haryana has around 19 lakh serving soldiers, ex-servicemen and their dependents.