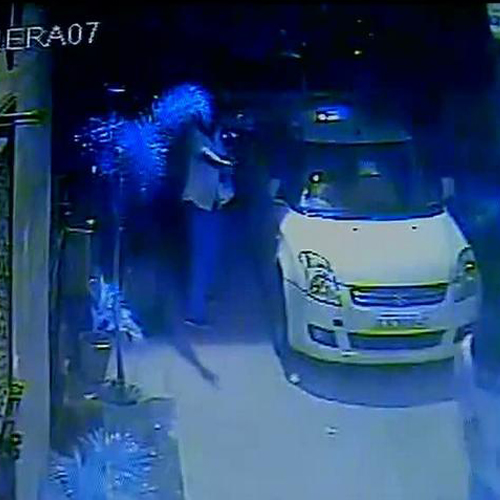 An unidentified gunman opened fire at sitting BJP MLA from Shahdara, Jeetendra Singh Shunty, outside his house in east Delhi's Vivek Vihar area early on Wednesday morning, police said. The MLA escaped unhurt as the bullets narrowly missed him.
The whole incident was caught on CCTV. According to reports, the incident occurred at around 5:30 am when the man reached Shunty's residence and repeatedly rang the bell.
"As Shunty went out to check, the man, who was wearing a helmet, told him that he wanted to get some documents attested," a police official said. As the BJP MLA took the documents from him and was about to go inside the house to attest them, the attacker whipped out a pistol.
Seeing the weapon, Shunty tried to prevent him from opening fire and had a scuffle with him. However, the gunman managed to fire three to four shots at him, which missed Shunty by a whisker, the official said.
The attacker then fled from the scene, and the police and media were informed about the incident. The BJP MLA told police that he could not identify the assailant as he was wearing a helmet.
Caught on Cam: Unidentified man opened fire at BJP MLA Jitender Singh Shunty at 5:25AM today, MLA escaped unhurt pic.twitter.com/dYfR8gdAAQ

— ANI (@ANI_news) September 3, 2014
According to Zee News, Shunty's wife revealed that the main door of their house got locked automatically when the assailants attacked her husband, and he had to fight for two minutes before luckily escaping unhurt. Shunty said locals in the area have direct access to him since he is the sitting MLA.
Door locked automatically,he (Shunty) had to fight for 2mins, God was with him: BJP MLA Jitender Singh Shunty's wife pic.twitter.com/O4PDH1DIeq

— ANI (@ANI_news) September 3, 2014
Delhi Police have registered a case in connection with the incident, with their FSL and Crime Team reaching the spot. An investigation has been started into the case. The police is also likely to examine the CCTV footage of the incident and record the version of Shunty and his family members. Empty cartridges were recovered from the lane outside Shunty's residence where the incident took place.
"We have registered the case, investigation is going on," Pushpendra Singh, DCP East told media.
Senior officials including DCP Ajay Kumar and Joint Commissioner Sanjay Beniwal have also reached the crime scene.
With inputs from Zee News and agencies.