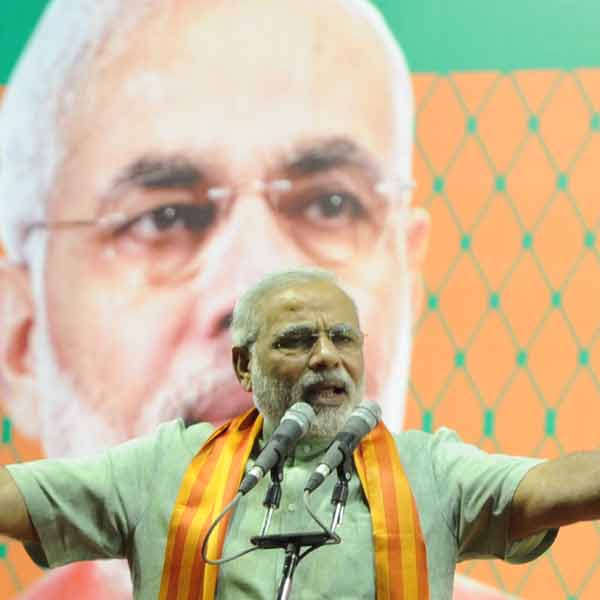 Live Update:
* "All these parties have played politics in the name of secularism and Muslim communities," he says. "Gujarat's secularism is true secularism; it works for every section of society. I want to tell my Muslim brothers that these parties have fooled you and used you like vote banks," he adds.
* "Like they rejected Gujarat's help they won't do the same for Bihar and they will apologise for their actions," he says.
* "Our focus will be on the states on eastern part of India and bring them at par with the rest of the states," he promises. "Be it special package, status, attention...for the good of Bihar we will do everything that will be our priority."
* "Bihar needs to be free from terror and Naxalism but they aren't interested as it comes in the way of his votebank politics," he says.
* "Innocents were killed after eating mid day meals; a committee was formed but it has been a year but not one meeting has been held," alleges Modi.
* He further address Rahul Gandhi, and questions, "You gave the people mobile phones? What about electricity to charge the phone?"
* "Coming age is about technology. But only 2% schools have computers. Shahzaade ji, what is the Centre doing about this?," he questions.
* "Our politics is about coalitions. We need to accept it. Every coalition where we are part of as leaders, the coalition is successful," says Modi. "BJP has come to the people to give stability and development."
* "Congress is immersed in votebank politics and they are that playing with your future," accuses. "There are schools in the state for which money is being granted but nothing is happening. Can these 'schools on paper' make the future of Bihar's youth. We need schools not on paper but on the ground," he says.
* "Some people in third front are former PMs and other are those who want to be future PMs," he says.
"But where was this third front during Gujarat earthquake, during Assam & UP riots or when our jawans were beheaded," he questions.
* Remembering his last visit to the state, he says, "I have to bow to the people of this land and the people of Bihar. Despite the blasts they remained resolute. Such sights are unprecedented."
"When history is written, October 27 will be remembered," he adds.
* Naredra Modi starts his address with refrences to the upcomng festival of holi. "Along with colours of Holi, the colour of the BJP is also all over the nation," he says. "Like the colours of holi, the colours of development, progress, brotherhood, Sadbhavana will also be spread all over India."
* Kick starting BJP's rally in Bihar, Sushil Modi announces, "People of Bihar want you to contest elections from Bihar. We will vacate any seat to make you the PM of India."
Bharatiya Janata Party (BJP) prime ministerial candidate Narendra Modi addresses a rally here today.
The Gujarat Chief Minister will address a public meeting at Purnia's historic Ranbhoomi Ground which has a capacity to accommodate 1.5 to two lakh people. Modi's last rally in Bihar was in Muzaffarpur where LJP leader Ram Vilas Paswan shared the dais after his party's alliance with the BJP was announced.
Taking a dig at Bihar Chief Minister Nitish Kumar, Modi had said there is no space for hypocrisy in public life, and added that the National Democratic Alliance (NDA) will keep on expanding. He asserted that for other parties secularism is religion first but for the BJP it is India first. "I say stop price rise, they say stop Modi. I say stop corruption, they says stop Modi. For them secularism is appeasement for all, justice for none. For us it is justice for all, appeasement for none," he added.