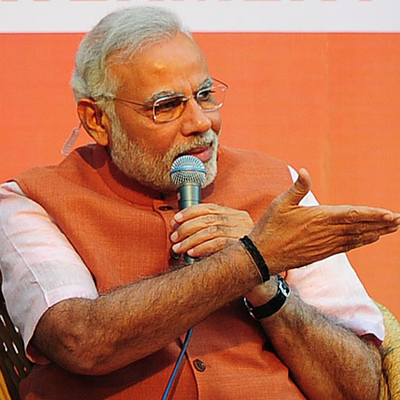 Narendra Modi is all set to file his nomination from Varanasi, on 24th April. The intelligence team of the Gujarat police has already reached Varanasi to ensure safety during the nomination process. The team on Tuesday made the necessary security arrangements and checked the route of the rally along with instructing the local police. They refused to comment when reporters tried asking questions.
The police intelligence team, keeping in mind Modi's itinerary made some arrangements beforehand around the area surrounding Kashi Hindu University's helipad, and the statue of Madam Mohan Malviya's statue at the university's Singh Dwar, and also instructed the local authorities and BJP workers. The team then headed to Mahatma Gandhi Kashi University where it conveyed the location of the helipad to the authorities, before going to effigy of Sardar Vallabhbhai Patel at Maldahiya square, from where Modi will start his nomination road show. The team then met BJP leader Nalin Kohli after the inspection. Modi will address a meeting, and then will head to the court along with three vehicles to file his nomination.
Reportedly, Laxmikant Bajpai, president of BJP state unit hinted at Modi's nomination day schedule in a press conference on Monday. According to bajpai, Modi will land at the Lal bahadur Shastri Airport at Babatpur and proceed to Kashi hindu University's via a chopper. He will then be driven to Madan Mohan Malviya's statue to garland it from where he will take the chopper again to Mahatma Gandhi Kashi University to garland Sardar Vallabhbhai Patel's statue. He will then proceed to the location of the nomination with a convoy of three open hooded cars and supporters. Modi will then address the mass there and file his nomination in the court, from where he'll directly fly to Delhi in a helicopter.
(Saiyed Faiz Hasnain reports for Iamin.in, India's hyperlocal news network)