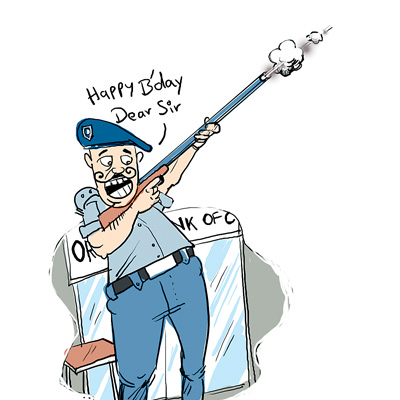 It was his boss' birthday and security guard Ramkaran was excited. On Monday, he raised the double barrel of his gun in the air and fired. And housewife Zarine, who was in the balcony above, became the victim. She was injured on the face, stomach and hands in the firing.
The 46-year-old was rushed to the hospital by her family members with a couple of bank employees in tow. The police arrived on the scene and arrested the 41-year-old guard.
Ramkaran is a security guard with the Minto Road branch of the Oriental Bank of Commerce. The Minto Road branch functions from a seven-storey residential-cum-commercial building. Zarine resides on the first floor flat. The bank is on the ground floor.
At around 10.30am, bank employees sang 'Happy Birthday Dear Sir' and 'Dear Sir' cut the cake, and Ramkaran raised the double barrel.
Zarine is the wife of Indian Meteorological Department director Ajaz Ahmed. The couple have three sons. "We do not know the security guard personally. When the incident took place, no other family member was present at home. My mother is fine now and recovering well," said Shahbaz Ahmed, her younger son.
Ramkaran is an ex-serviceman and hails from Uttar Pradesh. "It was purely unintentional. But as the woman was hit, we took action and arrested the security guard. We are purposely not naming the branch manager whose birthday was being celebrated," said a police official.
Celebratory firing is quite common in the national capital. Several cases come up each year in which numerous people get injured, and sometimes have even died, during celebratory firing at weddings. In 2013, at least seven people were injured in firing at weddings. This year alone, two people have died and three have been injured in celebratory firing in Delhi.
The police has been strict in such cases ever since the Supreme Court disapproved of celebratory firing during weddings in a judgement last year. For instance, two people were sent to 14 days judicial custody for firing during a wedding in south Delhi's Vasant Vihar area in February this year. The police charged the men under section 307 (attempt to murder) with sections 25, 27 and 54 of Arms Act.