With the Lok Sabha polls scheduled this year, all eyes are on the AAP — will the aam aadmi across the country vote for Kejriwal? Besides, how will the markets and industry react to the political changes? dna and Zee Research Group give a glimpse of what's in store for you in the new year.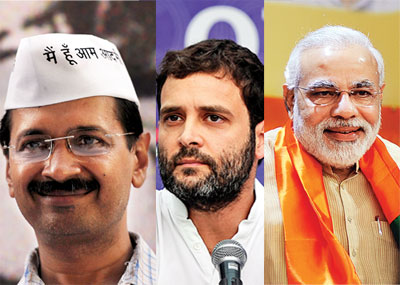 Politics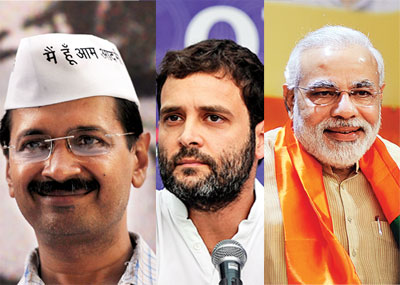 Bi-polar or tri-polar? At the end of 2013, for any political pundit it would be difficult to choose a winner among Narendra Modi, Rahul Gandhi and Arvind Kejriwal. The spectacular show by Kejriwal and his party in the Delhi assembly elections has actually made the contest tri-polar in 2014. Or is it early days to read the riot act to the grand old party of India?

Old not gold? You are never too old when you are in politics but the situation could change with more youth participating in elections. The recently-concluded assembly elections could be the best example of the trend. 2014 verdict could prove end of the road for politicians like Manmohan Singh, LK Advani, Sharad Pawar, Mulayam Singh, et al? Or, will they spring a surprise and keep the old boys club in business?
Pan-India AAP or stand-alone clones? The Aam Aadmi Party which has been projected as the harbinger of a corruption-free system has also decided to expand in many other states. But the pertinent question is whether voters outside the national capital will embrace the AAP. Along with the Lok Sabha, six states (Maharashtra, Haryana, Andhra Pradesh, Odisha, Arunachal Pradesh and Sikkim) are also slated for polls in 2014. Will it be yes to the model but no to the AAP? Will there be clones of the AAP or the real AAP win?
Will bills become laws? At the end of the recently-concluded winter session, 126 bills were pending before Parliament. This list includes bills like women reservation bill which has been pending since 1996. With only one session to go before the end of 15th Lok Sabha, it would be interesting to see how the new government will show some urgency in clearing them.
New 'Elders' club: As 70 Rajya Sabha MPs retire in 2014, a whole set of new individuals will seek to make it to the Upper House. Industrialist Rajkumar Dhoot, Murli Deora, Union ministers GK Vasan and Jayanthi Natarajan, AICC treasurer Motilal Vora, Prem Chand Gupta, NK Singh, Dr KVP Ramchandra Rao, Dr T Subbaami Reddy, BJP spokesperson Prakash Javadekar are among 70 members of the upper house to retire in 2014. Not that these individuals cannot give it a retry.
Professionals in politics: This might well be the final innings for Dr Manmohan Singh, the professional who made it to the top and stayed there for a decade. But this will not be the end of the road for professionals seeking a life in politics, especially post-AAP success. Taking a cue from the success of the Aam Aadmi Party, many non-political faces could come into politics. But, it may also depend upon the performance of 28 legislators of the AAP that are not from any political background.
Net net gainers? If Google India head Rajan Anandan is to be believed, there will be 240 million Indians on the Internet by the 2014 election and that includes 70 per cent of India's voters who can swing the election.
Whither women power? After the December 16 Delhi gang rape almost every political party spoke about women empowerment but it would be interesting to see whether they would take this into consideration while distributing tickets for 2014 elections. Of all the assembly polls held during the last five years, 22 states registered less than 10 per cent participation of women candidates.

Whom will the aam aadmi vote for?
While Narendra Modi and Arvind Kejiwal have emerged as the agent of change, Rahul Gandhi's pro-active avatar after the party's crushing defeat in Delhi assembly elections could confuse voters in 2014. Or, will he vote without any backing any core political ideology? Advantage Kejriwal & Co?
Entertainment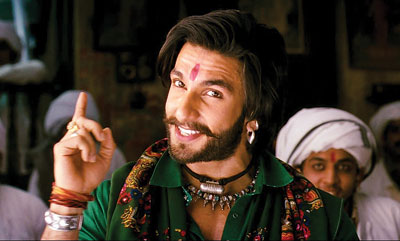 New kid on high: Will he be the next big thing in Bollywood? Ranveer Singh's last film, Goliyon Ki Raasleela Ram-Leela, has catapulted him into the 100-crore club. His next release will be Gunday with Arjun Kapoor and Priyanka Chopra. The film is expected to release on February 14, 2014. Let's hope that Ranveer Singh becomes the next big thing in Bollywood.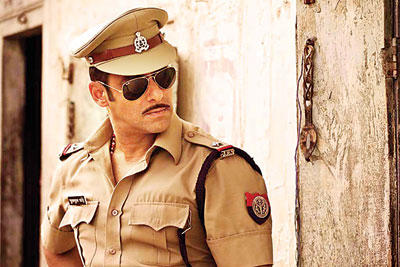 Evergreen Salman: The Dabangg hero will be back in action soon. His two movies Jai Ho and Kick will be released in 2014. He didn't have a single release in 2013. Jai Ho is expected to release on January 24 and Kick will release on Eid.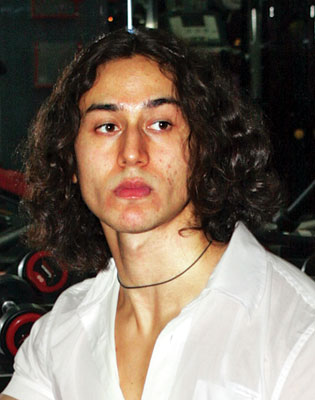 Shroff Jr: Jackie Shroff' son, Tiger, will make his Bollywood debut in 2014. Hero Panti will launch Tiger as a hero. Hope he will be able to carve a niche for himself in this industry. The movie is slated to be released in May.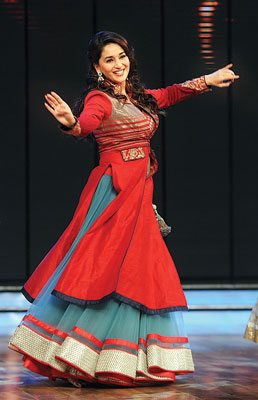 Dhak Dhak again: Madhuri Dixit will again make a Bollywood comeback with Dedh Ishqiya which is slated for a January 10, 2014 release. Her next film Gulaab Gang is expected to be released on March 7. Has the TV exposure given her a new lease of life in Bollywood?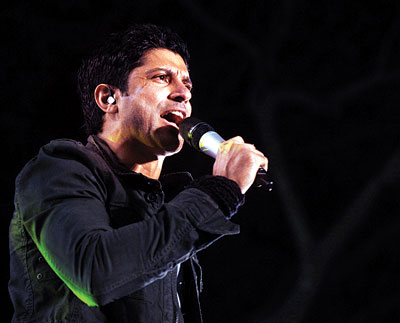 Milkha's run: Farhan Akhtar is set to rock again. Farhan and Vidya Balan's movie 'Shaadi ke Side Effects' will be released on Februray 21. It's a romantic comedy
Business and Economy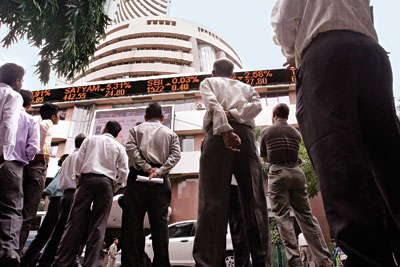 Realty raring to go: Sectors like infrastructure, capital goods, power, realty, and IT are expected to perform well. After the general elections, a stable government at the Centre is expected to continue with the reforms momentum which would augur well for the infrastructure sector.
Consensus on buoyancy in GDP: The consensus growth estimates point to a moderate recovery in the economic growth in 2014. For the current fiscal year (2013-14) that ends March 2014, international agencies and most of the private estimates say the growth will be below 5 per cent. However, according to the Asian Development Bank, India's GDP growth is expected to accelerate to 5.7 per cent in 2014-15. Similarly, the World Bank has estimated a growth rate of 6.2 per cent in 2014-15. Likewise, Goldman Sachs has predicted India's economy to grow at 5.5 per cent in 2014-15 due to high exports and increase in investment demand.
Inflation going south: Goldman Sachs has projected the WPI inflation rate for 2014-15 at 6.3 per cent driven by increases in administered prices, and elevated inflation expectations. Recently, the Wholesale Price Inflation for November 2013 was at a 14-month high of 7.52 per cent. However, going forward, it is expected that inflation would decline given the recent moderation in vegetable prices.
Downgrade threat for real? Recently, rating agency Standard and Poor's (S&P) said that India's sovereign rating could be downgraded to junk status next year (2014) if the government, in the run-up to the general election due by May 2014, does not take measures to revive reforms.
Currently, S&P maintains its BBB(-) rating with a negative outlook on India, its lowest investment grade.
Banking on choice: New banking licences will be issued in 2014. This will lead to greater competition in the banking sector. Entry of new banks and liberalisation in the presence of foreign banks will increase competition in the sector.
Jobs galore: After mostly disappointing trends in 2013, the job market is looking at promising prospects in the new year and experts believe that the worst may be over on the hiring front and the employees can even look forward to double-digit salary hike of at least 10-12 per cent in 2014.
Spoilt for choice: Almost two dozen new cars are expected to be launched in 2014 as manufacturers aim to arrest the slowdown in their revenues. The carnival will begin in the first week itself, when the new Honda City diesel and Mercedes S class are launched. Other cars to be launched in 2014 include a compact sedan based on Hyundai's small car Grand i10, Datsun's small car GO, Honda's seven-seater MUV Mobilio, Audi's entry-level car A3 sedan, Chrysler Jeep, a new Skoda Superb, Maruti SX4, Tata Nano diesel and Mercedes GLA, a compact SUV, and its CLA sedan.
Will politics win over economics: All eyes are on the 2014-15 budget. Taking into account the election year, the finance minister can't afford to present an unfriendly budget. Although it would be an interim budget, it would be politically motivated. Remember the Rs 60,000 crore farm loan waiver in 2008!
Unkind rates: Goldman Sachs has predicted that the Reserve Bank of India would continue to hike rates due to persistent inflation. They expect the repo rate moving up to 8.5 per cent by mid-2014, as the central bank moves to targeting the CPI.

Will there be big jumps?
On December 9, 2013, the Sensex hit a new high of 21,483.74. Brokerages expect the indices to set a new record in 2014. While Citi has estimated that Sensex will touch 21,800 by December, 2014, UBS has said the Nifty will touch 6900 in 2014. Similarly, HSBC has estimated a Sensex target for December 2014 at 21,750 level, while Macquarie has predicted that Nifty will touch 7350 this year.
Health
More hospitals: Six AIIMS like institutions already admitted their first batch of students on September 2012. The hospitals attached to these institutions are expected to become functional in 2014.
Polio-free India: It will be two years for India without polio, if on January 13, 2014 India doesn't witness any polio cases.
Targeting urban health: The National Urban Health Mission (NUHM) will soon be started in all the states in the country on the lines of National Rural Health Mission (NRHM). NUHM will be established to address the health problems and needs of the urban poor. Under the programme, 75% of the funds will be given by the central government and the remaining 25% by the state governments.
Freedom from dengue: The year 2013 saw the highest number of dengue outbreaks in the country in the last six years, with 55,063 cases reported till October 28. According to health ministry data, the number of dengue cases has been steadily rising since 2008 — when the count was 12,561 — witnessing a dip only in 2011. The dengue fatality rate was 3.3% in 1996 when the number of cases reported was 16,517. This has dropped to 0.5% in 2012 and 0.2% in 2013. We wish that the civic officials will help to put down the cases with timely fumigation process.
Sports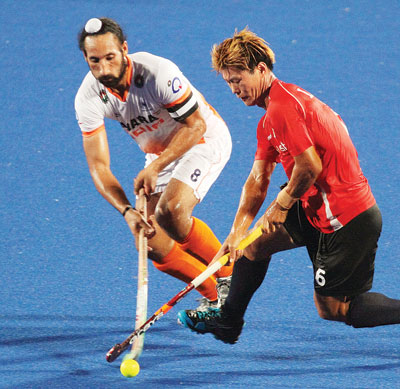 Nepal XI: Nepal has qualified for its first-ever global event, the 2014 World Twenty20 cricket. They have secured a win off the last ball against Hong Kong in the qualifiers.
IPL on a tour: The seventh edition of the Indian Premier League will be played in April-May. But, it's not decided where IPL will be held in India or abroad.
Golden opportunity: This will be the third time Scotland is hosting the Commonwealth Games. Glasgow, host city of the 2014 Commonwealth Games, will see 6,500 athletes from 70 countries competing in 17 sports over 11 days — from 23 July to 3 August. Buck up India!

Time to strike
The 13th edition of the men's hockey World Cup will be held in the Hague from May 31 to June 15, 2014. Will India, which won eight Olympic gold medals during its heydays, redeem its lost glory?