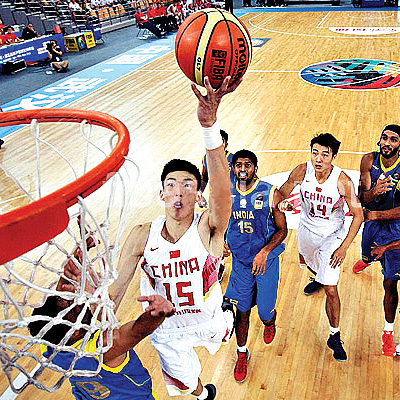 Over 30,000 people have signed an online petition launched by iconic athlete Milkha Singh on August 14 to protest what he called "unwarranted action" against Indian Sikh players who have been forced to remove their turban in international basketball matches from last month.
Just a month after forcing India's national team players Amritpal Singh and Amjyot Singh to remove their turbans at the Asia Cup tournament in Wuhan (China) , it was the turn of Under-18 player Anmol Singh to face similar humiliation in Doha on Wednesday.
"This is a shame! How can any Sikh sportsmen be humiliated like this?" asked the 80-year-old living legend in the petition. "My faith and religion have played a big role in my success. FIBA's policies should be more sensitive to people's faith. Sikhs around the world should be able to play with their turban on if they want to," Milkha Singh wrote in the petition.
Milkha Singh has now managed to get two US Congressmen to support the campaign. In a letter sent on Tuesday to FIBA president Yvan Mainini, Joe Crowley and Ami Bera called the policy discriminatory and said the turban "is essential to the Sikh's faith".
The Basketball Federation of India on Thursday lodged their protest with FIBA Asia calling it "discriminatory and humiliating".
"BFI strongly condemns the unwarranted action of technical commission of FIBA Asia taken against Anmol Singh and asks them to stop discrimination against Sikh athletes representing Indian basketball teams at international level immediately," a BFI statement issued on Thursday.
BFI added that the India team's manager in Doha, Shafique Ahmed Shaikh, has been contacted and he had taken up the matter before the start of the tournament.
"This issue will be taken up during FIBA Central Board meeting after this Championship at Seville, Spain, on August 28 and 29; till then the Technical Commission, FIBA Asia is bound to follow the rules," informed BFI.
It has been learnt that the FIBA commissioner had not objected to Anmol playing in the first quarter of the game with his turban. It was during his entry in the second quarter that he was told to remove his turban. "This caused humiliation to the player and affected the performance of the team in that particular match," said the release.
BFI said the FIBA's rules are discriminatory towards Sikhs.
"This is plain and obnoxious ignorance from basketball federation. They have no right to organise any tournament if they are so ignorant about social customs of other countries. This is an issue of our pride, our custom and why is it happening in basketball only? asked Bishan Singh Bedi.
Since the Asian tournament in China, umpires have intrepreted a basketball rule which says that no headgear or jewellery can be worn in the matches. This rule was meant to prevent players from wearing caps , helmets or jewellery like ear rings. Now the rule has been misinterpreted and turbans banned though some NBA players wear head bands.