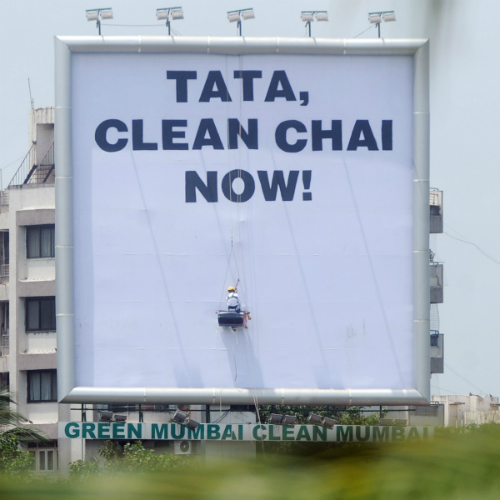 Greenpeace India has expressed its satisfaction over the commitments made by Girnar Tea and Hindustan Unilever (HUL) over phasing out pesticide from their teas.
"It is very encouraging that the tea companies are taking steps to provide their consumers pesticide-free tea. Unilever and now Girnar Tea have taken the first step in this direction. Greenpeace will continue to urge the tea industry to move towards a holistic, ecosystem-based approach that will gradually phase out pesticides and clean our chai," said Neha Saigal, Senior Campaigner, Greenpeace India.
Girnar Tea had tweeted from its account:
Girnar announces its support for Non Pesticide Management (NPM) as a step towards phasing out pesticides from tea plantations in India.

— Girnar Tea (@TeasAtGirnar) August 13, 2014
W/ growing demand for better tea,Girnar acknowledges that a change in approach @ the farm level is a progressive way fwd for the industry.

— Girnar Tea (@TeasAtGirnar) August 13, 2014
Girnar emphasizes that they are committed to their consumers & will be supporting approaches of ecological agriculture in tea.

— Girnar Tea (@TeasAtGirnar) August 13, 2014
Hindustan Unilever had also announced that the company will phase out and eliminate the use of the pesticides in tea cultivation altogether in collaboration with its suppliers by 2020. However, HUL has maintained that their teas are safe.
Following the Greenpeace report of pesticides in packaged tea, the Tea Board of India and HUL had both said that Indian teas are safe and meet stringent standards.
Tea Board of India released a statement saying it had reviewed the findings of the report. It asserted that all the samples tested comply with the Indian laws and regulations and were designed to protect consumers. Tata Global Beverages had also asserted that it stood by the Board's statement.
Hindustan Unilever Limited (HUL), told dna, "Our data does not show the presence of any unapproved chemicals and we fully comply with the Indian foods regulations as stipulated by the Food Safety and Standards Authority of India (FSSAI)."
To highlight the urgency of the issue, Greenpeace volunteers had climbed up seven billboards at the Bandra Reclamation Road urging the tea companies to "Clean Chai Now". After spending 50 hours on these billboards, the volunteers climbed down on Thursday, acknowledging the progress shown by tea companies.
"We are happy that our efforts are paying off and companies are coming forward to engage with us in a positive way. We look forward to a day when all our tea is free from pesticides," said Bindu Vaz, one of the volunteers.