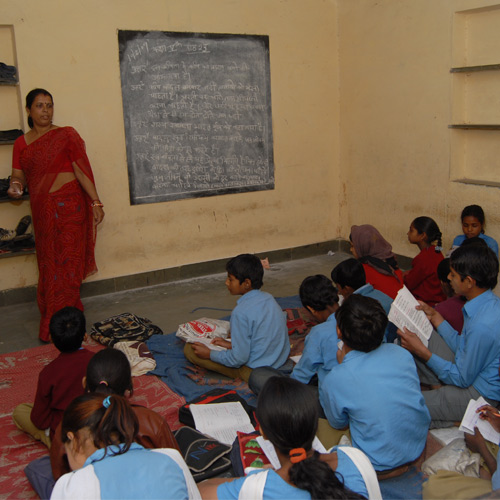 Even as successive central governments have focused on modernisation of madrassas and allocated hefty sums for the purpose, thousands of mainstream minority educational institutions are suffering for want of funds, facilities and official attention.
Eminent Muslim educationists have questioned the government's over focus on madrassas, where just 4% of Muslim children study and neglecting the rest 96%, who are enrolled in the contemporary educational institutions for the prime reason of job opportunities.
While the latest Union Budget set aside Rs 100 crore for madrassas, there was no grant announced for modern minority educational institutions that include English and Urdu medium schools, engineering, medical, and management colleges.
Noted lyricist Javed Akhtar had asked Minority Affairs Minister Najma Heptulla to leave Madrassas on their own fate, as they get enough local donations and instead concentrate on setting up primary schools. "My solution to Muslim backwardness is if government establishes a primary schools just across a madrassa. People will prefer to send their children to schools rather in madrassas," he said.
Karnatka-based Taj Mohammad Khan, who is also Chairman Federation of Minority Educational Institutions recounts problems associates in setting up and running a modern educational institution. "Under Article 29 and 30 of the Constitution, Minorities are entitled to establish, operate and manage educational institutions, but the central and state governments put up a host of objections and impediments," he told dna.
The first issue is related to sanction of No Objection Certificates (NoC). Even, if everything is under norm, the state governments either delay or don't issue certificates.
Then there are issue with recognition and finally even in the aided institutions, there are problems with staff and grants in time.
In Karnataka, despite rules stating a teacher for 25 students, in minority schools this ration is skewed to 70 students.
"In my school, five teachers retired since 2009 and we are not able to recruit new teachers as government in the name of reducing expenditure doesn't sanction grants," he said.
Further, while a big schools like Sanskriti Vidhalaya and Delhi Public School gets lands at concessional rates, the minority institutions despite following all rules doesn't get such facilities.
"Why they are so focussed on Arabic madrassas? What is their motive, when just 4% children study there, I have not been able to find answers?" says Khan.
Against this, not only in Karnataka, but across Uttar Pradesh, Bihar and Rajasthan, Urdu medium schools are in a pathetic condition. "Since they provide employability, there is no scheme even for providing teaches or repairing their roofs, which are leaking, he said.
Under the noose of central government Quami School in Delhi near Idgah is running in tin sheds now for over four decades. Authorities had demolished the old school building in 1975 during emergency, with the promise that a new building with come up. Presently there are between 600 and 700 students.
Over the years government is providing funds, teachers, computers, etc. to Madarsa. "Focus on Madarsas is not going to solve educational problems of the Muslims, the government must help the community in accessing contemporary educational institutions by providing resources and addressing their problems," says another educationist Dr Fakhrudin Ahmed, who is operating several educational institutions in Hyderabad.
Justice MSA Siddiqui, Chairman of National Commission for Minority Educational Institutions (NCMEI), however, regretted that Muslims were not coming forward proportionate to their population to establish contemporary.
"Muslims, despite being the largest among the religious minority communities, were not taking benefit of the constitutional provisions, while the smaller communities like the Christians and the Sikhs were deriving more benefits from NCMEI," he lamented.