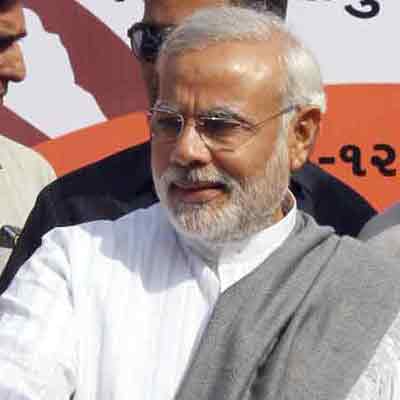 Bharatiya Janata Party (BJP) prime ministerial candidate Narendra Modi on Tuesday alleged that the Congress-led UPA government has not properly utilized the money in 'Nirbhaya Fund', and added that incidents of rapes are becoming a day-to-day affair in Delhi.
Addressing a rally here, Modi said in the last ten years the country has lost so much, and added that unemployment, poverty, corruption and farmers suicide are very much prevalent.
"Today, rapes are happening on the day-to-day basis. But this government is fooling people. When Nirbhaya incident happened in Delhi, then the whole country protested on the streets. A scared government then constituted a 'Nirbhaya fund' in which they allocated Rs.1000 crores rupees. But they haven't spent a penny from that fund for the security of women in Delhi," he alleged.
Modi, who arrived late for the rally due to a delay, alleged that there was a conspiracy behind it.
"I want to apologise for coming late. There was two hour delay in Delhi. Then, my chopper was not allowed to take off for over three hours in Bareilly. I want the Election Commission to investigate," he said.
"It is pretty evident that the Congress has even lost the ability to digest their certain defeat. They are so much scared because their efforts to stop the BJP have been unsuccessful. They stooped to this level so as to cause inconvenience. The elections will go on for around 2 months. They are misusing the government for causing problem to the opposition," he added.
He reiterated that the Congress manifesto is a 'dhokhapatra' instead of a 'ghoshnapatra'.