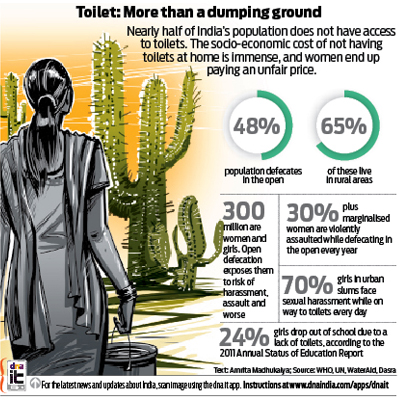 If travelling almost a kilometre through a poorly-lit trail in the night to relieve yourself is not punishment enough, more than 300 million women and girls in India live under the constant fear of being sexually assaulted while on their way to these toilets. Exactly a year ago, 12-year-old Preeti was lifted up by a man from the neighbouring Lakshmi Bigha village around 7pm in Mai village in Jehanabad in Bihar while on her way to the village toilet. She was taken to a nearby pumphouse and raped. Today, she is paranoid of stepping out in the night and holds herself.
According to the 2011 census, 75.8% homes in Bihar has no sanitation facilities, leading women in these households to defecate in the open. In addition to the host of diseases and unhealthy consequences, women mostly have to battle prying eyes, catcalls, harassment and in several cases, rape and murder. Bihar is one of the worst-hit states in a country with an acute problem of lack of sanitation facilities. A WHO-Unicef Joint Monitoring Programme states that 48.3% of the country's population defecate in the open. This includes 65% of India's rural people.
The gruesome gang-rape of two cousins in Katara village in western UP's Badaun has brought up the ugly issue to focus again. Forcibly taken away by four men while on their way to the public loo, the teenagers were gang-raped, strangulated and then hung by a mango tree. Appallingly, two of the accused were policemen.
Governmental apathy has been a huge hindrance to development. Last year, Samajwadi Party leader Mulayam Singh opposed death penalty to gang-rape accused, saying that, "Boys will be boys." His son, UP CM Akhilesh Singh, snapped at a women journalist on Friday when questioned about the rapes, asking her if she felt unsafe in UP. As outrage against the rapes have come in from various quarters around the globe, Hratche Koundarijan of WaterAid says that governments around the world must acknowledge the problem. "Any women defecating in the open is vulnerable and the Indian government must acknowledge the issue. Resources will only pour in then. At the moment, the UN is in important negotiations to replace the Millennium Development Goals. One of the resolutions is that everyone everywhere irrespective of race, creed and income must have access to water and sanitation," said Koundarijan, hoping that the newly-elected Narendra Modi-led BJP government channelises opportunities to change the situation. The Millennium Goal, which will end 2015, is already running 150 years behind schedule.
Government schemes centred on sanitation have clearly failed. "The Nirmal Bharat Abhiyan that look after sanitation facilities has several loopholes," says Kanika Kaul, senior programme office at the Centre for Budget and Governance Accountability, a Delhi-based think tank. As part of a study on sanitation Kaul and her team found that in a gendered context, sanitation schemes under the NBA in rural areas focus mostly on household toilets, leaving out public toilets. "There are too many conditionalities. What will women do when they are out in the open?" she asks. These schemes also focus mainly on sanitation facilities, and not enclosed bathing spaces. "Women face harassment and humiliation in the lack of bathrooms," she adds.
For more than four decades, Sulabh International has been promoting sanitation schemes in the country. Its founder Brindeshwar Pathak, a pioneer in environmental sanitation, has vowed to write to the PM for toilets at every home. In Hirmitla village in Rajasthan's Mewat region, Sulabh International has built individual toilets in all homes with financial assistance from the Rail Tel Corporation. One family in the village with seven women members, would not be able to sleep because they had to go out in a group even if just one of them wanted to relieve herself. One of them who was defecating in the open got up when a man passed by. She felt so humiliated that she could not defecate for the almost three weeks thereafter, making her unwell.
"There is no national policy on sanitation. And for whatever there is, there is no one to implement and monitor. An official in the rural ministry told me that once the money is released to the state government, they consider the work done," says the sanitation expert. "Majority of the 5,40,00,000 toilets build by the rural ministry are not useable, and the Rs10,00 they allot to build a toilet is inadequate and takes about 2-3 years to reach."