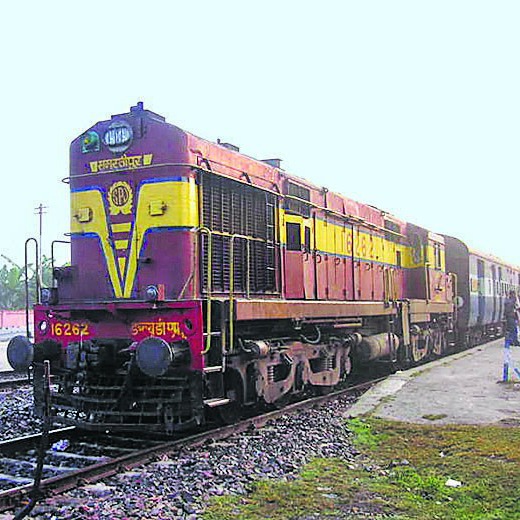 At least 20 passengers were today feared killed as the Gorakhdham Express rammed into a stationary freight train in the district.
The incident occurred this morning when the express train came on the same track as the freight train near Chureb Railway Station, District Magistrate Bharat Lal said.
However, NE Railway's CPRO Alok Singh said the accident was caused due to derailment.
Lal said around 20 people are feared killed in the accident that completely damaged the first bogey of the train.
ANI earlier reported, 6 coaches have been affected in the accident of Gorakhdam Express
6 coaches have been affected in the accident of Gorakhdam Express,no casualty report yet,some injured-Alok Kumar,CPRO pic.twitter.com/0q86xs6TWV

— ANI (@ANI_news) May 26, 2014
ALSO READ: Narendra Modi tweets condolences for victims; speaks to cabinet secretary for an overview of situation
Officials in the Railway Board said the mishap occurred due to derailment of the express train. They said six coaches of the train then rammed into a stationary goods train standing on the adjoining track at the station.
Out of the six coaches, four were general coaches and two were AC coach-- AC first class and AC two tier.
Congress vice president Rahul Gandhi today expressed deep anguish over the Gorakhdam Express accident in Uttar Pradesh and offered condolences to the bereaved families for the loss of their loved ones. Read More
Uttar Pradesh Chief Minister Akhilesh Yadav also commented on the accident, describing the Gorakhdham train accident as unfortunate, and assuring that the state government is extending all possible help to the injured. Read More
Sant Kabir Nagar (UP): Gorakhdham Express train lifted 100ft in air by force of collision with stationary goods train pic.twitter.com/zBLgjSQDsG

— ANI (@ANI_news) May 26, 2014
Railways have ordered an inquiry into the mishap by Commissioner Railway Safety (Northeast circle) PK Bajpayee. They have also ordered a compensation of Rs one lakh to the family of those killed and Rs 50,000 for those seriously injured.
UP Govt is extending all possible help including medical treatment, medicines etc : Akhilesh Yadav,UP CM on Gorakhdham Express train mishap

— ANI (@ANI_news) May 26, 2014
A sum of Rs 10,000 will be given to those who sustained simple injuries. Medical teams have rushed to the spot.
ALSO READ: President Pranab Mukherjee condoles loss of lives in a train accident in UP