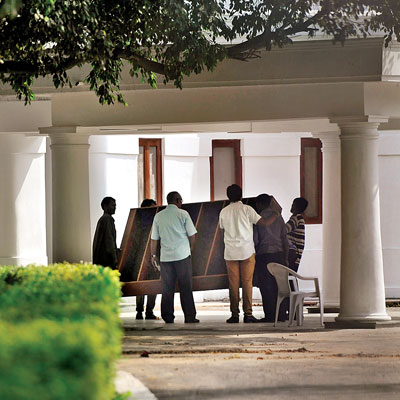 7 Race Course Road in Lutyens' Delhi is abuzz with action as it prepares to bid adieu to the country's longest-serving PM outside the Nehru-Gandhi clan. The current occupant, prime minister Manmohan Singh, is most likely to leave his residence of almost a decade on Thursday, just a day before the election results are declared to make way for the new PM, sources said.
Trucks moving in and out throughout the day signal the PM's move out of his sprawling 12-acre residence-cum-office. "We are busy with the nitty-gritties of packing," said Upinder Singh, Dr Singh's daughter, who's a professor in the history department at Delhi University. Asked if Dr Singh is going to take a much-deserved break with his family -- the PM did not take even a day off during his tenure -- his daughter replied she was not in the mood to discuss details.
Dr Singh will move to a bungalow at 3 Motilal Nehru, which was earlier occupied by former Delhi CM Sheila Dikshit. Spread over 2.5 acres, the bungalow is being revamped for the new entrants and the PM's wife, Gursharan Kaur, can be spotted there daily, overlooking the renovation work being carried out.
Around 50 workers have been working tirelessly to prepare the home in time for the PM's arrival and about Rs20 lakh have been spent on civil works alone, including a fresh coat of paint and repairing minor damages. "No special paint is being done. The house has been given a fresh coat of white paint all over. There is little repair work being carried out which is natural when a house is used for years," a senior official told dna. "No new furniture is being added as the PM is fine with the old one left by Sheila Dikshit before taking up the post of governor of Kerala."
The Special Protection Group has taken over the bungalow and will be responsible for protecting the PM and his family. The house will see new sliding gates and the security canopy, where guards station themselves, is also being renovated. A new Porta Cabin is being built at the entrance where visitors will have to undergo security check before entering the bungalow. Four new cabins for sentry are also being built near all the entrances where guards would be posted round-the-clock.
The PM bid farewell to his personal staff members today. Congress president Sonia Gandhi will hold a farewell dinner for the PM and his ministerial colleagues at her residence, 10 Janpath, on Wednesday. The PM will be presented with a memento signed by all Congress Working Committee members at the dinner party. "The souvenir will enumerate his achievements and thank him for leading the country," said a source.
Dr Singh is perhaps the first non Gandhi-Nehru Congress PM who has exited from the office gracefully. Late PM PV Narasimha Rao had strained relations with Sonia Gandhi and suffered many insults before he quit his office, while Lal Bahadur Shastri died of a heart attack in Tashkent.
(With inputs from Mayank Aggarwal)