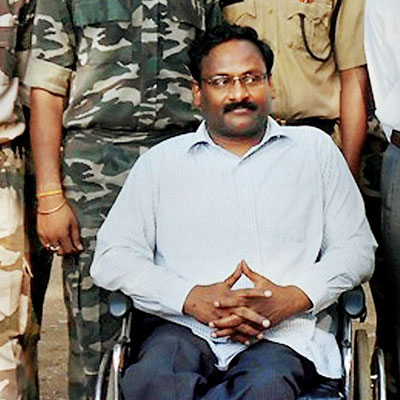 The speculation that Maharashtra Police is unlikely to oppose the bail of Delhi University professor GN Saibaba arrested for his alleged Maoist links may come as a breather for his supporters, but his current stay in Nagpur Central Jail isn't a bed of roses either.
Saibaba's brother Ramdev, who met him at Nagpur jail alleged that his brother who is 90 per cent disabled doesn't have any facilities and has been kept in solitary confinement without life saving drugs prescribed by doctors and other facilities, including western style toilet. In case of continued denial of the facilities, Ramdev threatened that Saibaba would go on hunger strike.
After his arrest on May 9, Maharashtra Police was granted 14-day police custody of Saibaba. A delegation of DU professors, students and social activist met authorities in Maharashtra Sadan here on May 10.
They were assured that Saibaba was being properly taken care of, given his medical condition and disability.
However, Ramdev who met Saibaba on May 12 didn't find any of the facilities supposed to be provided to a disabled person.
Ramdev also alleged that since Saibaba is a cardiac patient, he needs to have constant medication, but the jail authorities have denied him any medication. The jail authorities informed Ramdev that the jail is not equipped with facilities required to support Saibaba's and his kind of inmates.
Ramdev had also written a letter to jail authorities requesting them keep him with other inmates along with facilities such as western style toilet and proper medication prescribed to him for his different ailments.