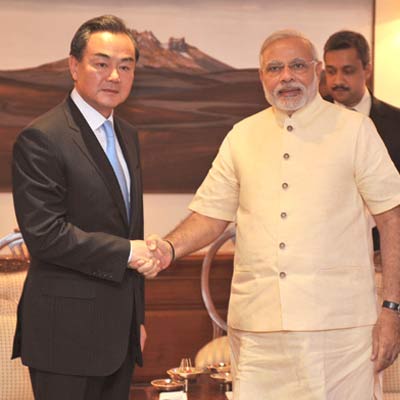 A day after Chinese foreign minister Wang Yi's visit, who succeeded in clinching a road map for trade and investment, a key American strategist on Tuesday cautioned India against allowing a greater market access and thereby increasing dependency on Beijing.
Former US ambassador to India Robert Blackwill, who is here meeting Indian leaders ahead of Prime Minister Narendra Modi's scheduled trip to his country, said China is used to flaunting its economic clout to influence foreign and domestic policies of nations.
Talking to dna, Blackwill praised Modi, his managerial skills and strategic vision, saying that the world was excited about his dynamic and decisive leadership. "The US and others have strategic interest in strong India under Modi to play its part as a balancer in Asia. We all want the new prime minister to pull India out of an economic downturn," said Blackwill.
On China's rise in the global arena, Blackwill maintained that Beijing was out to seek an end of US primacy in Asia and alter the balance of power in its favour. And although China pursues ambitious military modernization, its tools in implementing the nation's grand strategy for the foreseeable future are primarily geo-economic and not military.
"The very access of market to China can become dependency. Though, there is nothing illegal about that, China will use it as a powerful institution to influence foreign policy," he said, but hastened to add that it was up to the government of India to decide how much Chinese economic activity was useful in its national interest.
Earlier, addressing a gathering of strategic and business community experts, organised by Delhi-based think-tank Aspen Centre, Blackwill asserted that economic issues were not only dominating the current international discourse but also emerging as the core element of foreign policy for most countries. "The United States and India still define and pursue national interests largely in political and military terms.
America and India must re-orient foreign policy to succeed in an era crucially defined by economic power projection," he said.
He admitted that Washington was facing a blizzard of international problems from the rise of China, the return of Russia, the systemic destabilizing policies in Eurasia and beyond, chaos in the Middle East and the continuing danger of WMD terrorism.
Blackwill praised Modi's outreach to his neighbours, but remained pessimistic about the capacity of Pakistan prime minister Nawaz Sharif to reciprocate Modi's gesture. "Great influence on Pakistan economy is not Pakistan finance minister but the Pakistan military and the ISI. Sharif's freedom to manoeuvre is very narrow," he told dna.
He also believed that the attack on the Indian mission in the Afghan city of Herat was not a coincidence, but was designed to send a message on the eve of Modi's oath taking ceremony in Delhi. Saying that there was no let up in terror emanating form Pakistan, Blackwill apprehended another big attack on the lines of 26/11 and expressed concern at the safety and future of Pakistan's nuclear weapons, saying they were active and have been moved to the front, which is dangerous.
PM to visit Bhutan from June 15-16
Prime Minister Narendra Modi will embark on a two-day visit from June 15 to Bhutan, his first destination abroad after assuming office. During his visit, Modi will hold talks on key bilateral and regional issues with the leadership of the Himalayan nation, top government sources said.
The visit reflects the importance India attaches to its ties with Bhutan whose Prime Minister Tshering Tobgay was among the leaders from the neighbouring countries to attend Modi's swearing-in on May 26.