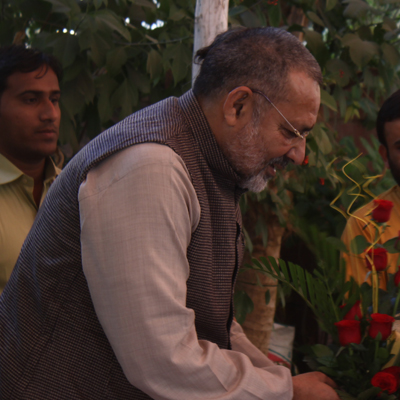 Bharatiya Janata Party (BJP) leader Giriraj Singh cleared the air on his controversial statement that all arrested militants belonged to one community.
While addressing reporters on Tuesday in Bokaro in Jharkhand, Singh had said that militants who are apprehended belonged to one community only and had also questioned silence of secular forces on the same.
However, Singh later on clarified that few people were associated with the militant activities.
"I had told media that there are few people in the nation, who support terrorism and Pakistan. There are few people who are associated with militant activities," he said.
Singh had also reiterated his earlier statements that people who want to stop BJP's prime ministerial candidate Narendra Modi were Pakistan-bound.
"From where did such talks begin that I made a controversial statement? I would like to question the UPA (United Progressive Alliance government) minister Farooq Abdullah, who runs the government in Kashmir. He swore by the Constitution and on August 14 Pakistan's National flags are waved. Why do Congress party leaders become mute then? Why don't the secular forces question Farooq Abdullah?" he said.
Meanwhile, External Affairs Minister Salman Khurshid said, there was no association between religion and terrorism.
"We believe that religion has no relation with terrorism or violence. People use it for violence that is a different thing," he said.
This is not the first time that Singh has quoted controversy. In April this year, he had said that people opposed to Modi would have to leave India and go to Pakistan after the BJP won the election and formed a government.
Also, leader of regional Rashtriya Janata Dal (RJD) Manoj Jha called it a shock that leaders like Singh were a part of politics.
"It's a shock that Giriraj Singh and the people like him, they are allowed in politics. You know they are out to damage the very social fabric of India, they don't understand terrorism, they don't have any idea about the history of India or the history of different communities and how they are placed with each other in such beautiful terms so far in the history of India," Jha said.