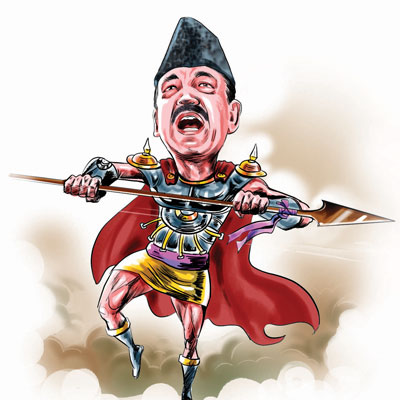 When tulips bloom, Ghulam Nabi Azad is missed a lot in the Valley. Credited for creating Asia's largest Tulip Garden on the banks of famed Dal Lake, the 65-year- old zoologist was popularly known as the floriculturist-chief minister of Jammu and Kashmir.
Spread over 300 kanals (20 kanals make one hectare), the garden houses 10 lakh tulips of varied colors, mostly imported from Holland, making it one of the biggest tourists attractions.
Azad had to quit in July 2008 after his alliance partner People's Democratic Party (PDP) withdrew support blaming him for the Amarnath land row. Congress and PDP had entered into post-poll alliance in 2002 where in both parties were to head the government for three years each. While PDP was allowed to complete its three year term, it withdrew support from Azad prompting him to quit three months before he could complete his three year tenure.
Much water has flown down the Chenab and Azad is again gearing up to fight to the finish. This time not only is he contesting the Lok Sabha elections from the home state for the first time but also is taking on one-time ally PDP and the BJP alike.
"It is not the political fight between Congress and BJP. It is fight between truth and falsehood. Congress and BJP have been fighting politically for the last 50 years. Now if you watch television and read newspapers, you will not find BJP but only Modi," he says.
Born in a small village of Bhaderwah tehsil of Doda district in Jammu division, Azad, a post-graduate in Zoology, joined active politics at a very young age and was made block secretary of the Congress in Balesa. He soon proved his political mettle and was elevated as the district president.
Azad's political graph went north when he became the president of All India Youth Congress Committee, the first from the minority community. After that there was no looking back. He has held the post of AICC general secretary for record times. A Gandhi loyalist, he had been the member of Congress Working Committee for more than 18 years.
"Congress is over a century old party. It is a party of Gandhi, Bose, and Nehru. Atal Behari Vajpayee never said they will finish Congress. But Modi is now claiming that Congress will be finished from the country. India has got freedom because of the Congress party," says Azad.
Like many political families, Azad clan too suffered by internal feuds and heartburns. It was evident in 2009 when his brother Ghulam Ali Azad revolted and joined BJP which mostly manifested from the envy he nursed against his elder brother.
Azad married to famous Kashmiri singer Shameem Azad in 1980 at the pinnacle of his success. Known as Nightingale of Kashmir, Shameem has sung in 10 Indian languages. Azad has two children. London-educated Saddam Nabi Azad is the eldest of two. His daughter Sofiya Nabi Azad has studied journalism.
"The whole family has all along been working for the Congress. When he (Azad) contested from Maharashtra he was accompanied by his family also," said Abdul Gani Vakil, senior vice-president of J&K Pradesh Congress Committee and an aide of Azad.
Azad is contesting from Udhampur which goes to polls on April 17. Azad is pitted against the state BJP spokesman Jitendra Singh, PDP leader Arshad Malik and National Panthers Party patron Bhim Singh.