Samantha Shannon, whose first book The Bone Season is currently at No. 7 on The New York Times bestseller list, speaks to Joanna Lobo about creating a dystopian England and a character that is "more than just kickass"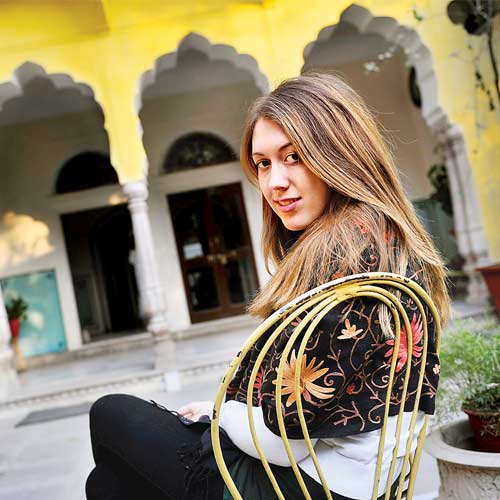 She is probably the youngest author to have a seven-book deal that was sold for six figures. The first book The Bone Season released to unprecedented popularity and its film rights have already been sold. If the crowd at her session at the Zee Jaipur Literature Festival was anything to go by, Samantha Shannon, 21, is quite well known in India.
"If you had told me three years ago that I would be sitting at a literature festival speaking to a large audience, I would have run away crying," she said to the audience during her session on the book. "I'm still terrified of you."
The audience at her session comprised of a large number of children, who stayed back to pepper her with questions, requests for autographs and photographs.
In contrast with the self-assured and sometimes egotistical celebrities at the festival, who refuse to talk or sign autographs, Shannon stands out as an anomaly. She is shy, appears nervous on stage, conserves words when talking and tries to remain as inconspicuous as possible — a difficult thing given that she literally towers over everyone. "People are really surprised at my height," she says, adding, "For some reason, they don't expect me to be this tall."
The Bone Season is the story of Paige Mahoney, a 19-year-old clairvoyant, an 'unnatural' living in a dystopian England in 2059 ruled by a Scion government. Her powers come to the government's attention and she's sent to a penal colony in Oxford. The colony is the beginning of her journey into finding the truth of this new world and its brutal war with beings from other dimensions.
The book is often categorised as science fiction, dystopian and young adult. Shannon would rather not characterise it in any one genre, saying it's a term she abhors. "I don't like 'genre' as a categorisation system. It discourages writers from creating good work. When one genre becomes popular, it tends to create writers who want to write in that genre, creating cookie-cutter novels," she says.
Shannon is done writing the second novel in the series, which she believes should be out this year. Was it easier writing the second book? "It was easier and harder. Easier because I didn't have to introduce the characters and could go straight into the story. It was harder because I was writing for people who have read the first book and have come back for the second. I don't want to let them down," she says.
Shannon uses a writing structure called skeletal outline, a flesh and bones planning for the other novels in her series. "Jackson (Paige Mahoney's boss) is my favourite character to write. He uses very elaborate language, is charming and loves showing off. He has a great personality but can be cold and aggressive too," she says. Has she figured out who could play his character in the movie? "Benedict Cumberbatch," she instantly says. "I have pictured what the others look like in my head but haven't really thought of who could play the others."
One journalist calling her 'the next JK Rowling' led to a tag that has stuck to her, although she takes it in her stride. "I love her and the Harry Potter series," she says, adding that it is one of her wishes to meet the creator of the Harry Potter series.
A lot of reviews of The Bone Season focused on the fact that its lead was a strong, independent woman. "Why must we talk about or focus on strong female characters? They have to be strong in more ways than just kicking ass. We never say strong, male characters because we assume they are. Why can't we write more about strong male characters who are more than just brawn?" she says, adding that it is important to think of characters as just people. It is possibly this reason that causes Shannon to steer clear of reading reviews.
This is Shannon's first trip to India, and to the Zee Jaipur Literature Festival. "I think they (the audience) are good fun. Most people know your book and name and not your face, so it's nice to communicate with your readers directly," she says.