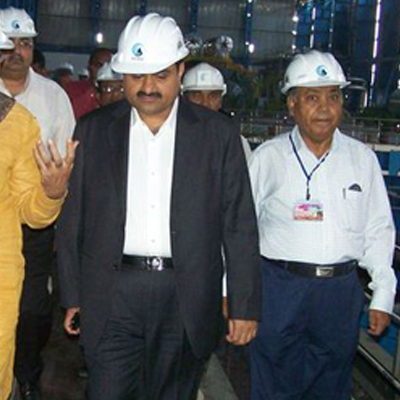 Energy-to-ports Adani Group today won approval for a massive Aus$16.5 billion (USD 15.5 billion) coal and rail project in Australia's Queensland.
Mumbai-listed Adani Enterprises' Carmichael coal mine and rail project in the untapped Galilee Basin is perhaps the largest in the world.
The mine will produce 60 million tonnes a year of thermal coal used in power stations. The project also includes a 189-kilometer rail line north-west of Clermont.
The Australian state of Queensland today gave approval to the project, deputy premier Jeff Seeney said. The coal mine and rail project in central Queensland will be subject to dozens of environmental and social conditions and still is to get federal government nod. "This project has the potential to be the largest coal mine in Australia and one of the largest in the world," Seeny said in a statement.
Among the conditions that Adani Group will have to meet include compensating landholders affected by any harm to water supplies.
Owner Gautam Adani welcomed the approval and said it could now move to the next stage of the project. "We remain committed to delivering the multi-billion dollar project," the Adani Chairman said in a statement.
The Indian Group will use Abbot Point port to export 60 million tonnes of coal a year mined from Carmichael using a combination of open-cut and underground mining.
"The project has the potential to create up to 2500 construction and 3900 operational jobs," Seeny said adding "jobs would be significant to the future economic prosperity of that region and to all of Queensland. "It also includes a 189 kilometre rail line, water supply infrastructure, coal handling and processing plant, and off-site infrastructure including workers' accommodation village and airport".
Seeney said the coordinator-general's report will be handed to the Federal Minister for his decision on issues pertaining to the Environmental Protection and Biodiversity Conservation Act under the assessment bilateral agreement. "The coordinator-general has thoroughly assessed all matters of national environmental significance issues and recommended conditions to address every matter," he said. "The proponent will also need to obtain a water license, mining lease and environmental authority. "The stringent and wide-ranging conditions set by the coordinator-general also include protections for local flora, landholder interests, groundwater resources, the quality of surface water leaving the project site, air quality, and noise and dust levels.
"In relation to groundwater and water bores, Adani will be required to reach make-good agreements with all affected landholders including the identification and provision of alternative water supplies."
Seeney said the decision represents another major step forward to unlocking the resource potential of the Galilee basin for the benefit of all Queenslanders.