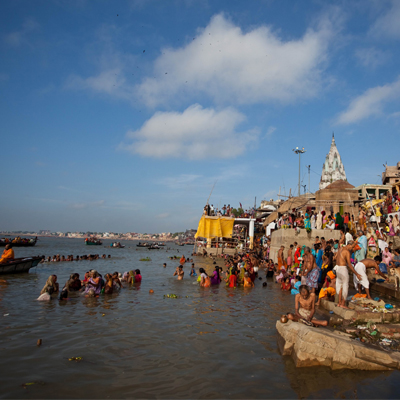 Environmental scientists associated with the Ganga Rejuvenation Programme have claimed that the Union Government's proposal to build barrages, dams and enable navigation of small ships on the river is going to effect aquatic life and create more pollution.
Vishwambhar Nath Mishra, Professor of Electronics at IIT-BHU and head priest of famous Sankat Mochan Temple here, alleged that the government is ignoring its pledge to ensure continuous and uninterrupted flow of the river and their proposal will commercially exploit the river Ganga.
Mishra was part of a day-long national dialogue on rejuvenation of the scared river 'Ganga Manthan' was held in New Delhi on Sunday, organised by National Mission for Clean Ganga. It was attended by various stakeholders and delegates from different parts of the country and abroad.
Union Road Transport and Highways, Shipping Minister Nitin Gadkari who attended the meet had said that the government has a proposal for navigation of small ships between Varanasi and Hoogly on river Ganga and barrages cum bridges are proposed to be constructed at every 100 kms on the river.
The Minister had also said that the government is in the last stage of getting Rs 4000 crore sanctioned from the World Bank for this project.
Mishra, however, claimed that by building dams, barrages and enabling navigation of ships would lead to extinction of aquatic life in the river and create more pollution. "If these barrages will be constructed on the river Ganga at every 100 KM then the divided part of this holy river would become like 10-15 separate large ponds, where the river's continuous flow of water will be obstructed, raising serious threat and rise in water pollution levels," he said.
Mishra pointed out that the problems associated with Ganga were raised since 1986 after the introduction of Rajiv Gandhi's pet project Ganga Action Plan, in which thousand crores of rupees were spent by the then government.
"The present Modi-led NDA government is going to do the same thing. They are saying that nearly Rs 80,000 crores would be needed for rejuvenation of the river," he said, adding, that spending money alone would not be sufficient to solve the river problems.
"...Then why was GAP a failure where huge sums of money were pumped in for cleaning the river? Constructing dams, or barrages will affect the health of the Ganga, so why is the NDA government doing the same thing? Why are they repeating the same mistakes that have been committed by the successive previous regimes?" he asked.
Mishra suggested that the government should install Sewage treatment plants (STPs), fully upgraded and equipped with latest scientific technology, to ensure not a single drop of sewage flows into the river.
Echoing Mishra's sentiment is another expert member of National Ganga River Basin Authority (NGRBA) and noted environmental scientist at Banaras Hindu University, B D Tripathi, who also attended the 'Ganga Manthan'. "Ganga Manthan lacked the discussions on how to ensure continuous and uninterrupted flow of river from Gangotri to Ganga Sagar to be maintained," Tripathi claimed.
He said the Government should seriously contemplate before executing any programmes and at least ensure that all hurdles in free flow of the river water must be minimised. Tripathi lamented that the discussion which should have revolved around providing uninterrupted flow of Ganga "lacked the will of the government to discuss on resolving this issue." "
It is sad that no one discussed how the flow should be maintained," he said, adding more public meetings should be held to discuss the river rejuvenation programme.
Swami Avimukteshwaranand Saraswati, disciple of Sankaracharya Swami Swaroopanand Saraswati and Mahant of Vidya Math here, who also attended the meet, alleged "the Modi government is making the river a materialistic thing to generate revenue which is against its glory." "If the government would insist on going ahead for constructing barrages then it would be Modi's betrayal to mother Ganga as well as the people of this country," he said.