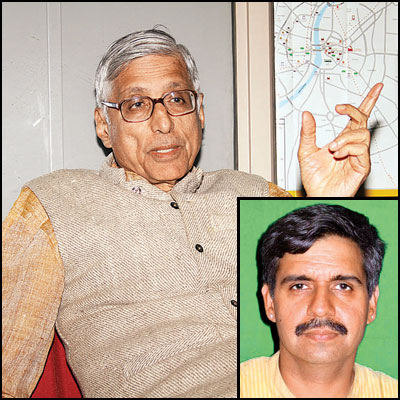 Keeping up its promise of challenging big politicos and tainted names in their own backyard, the Aam Aamdi Party on Thursday released its second list containing 30 names pitting them against the likes of Union home minister Sushilkumar Shinde, Preneet Kaur, Sushma Swaraj, Gopinath Munde, Farooq Abullah, Praful Patel and others.
Of 30 names, 10 are from Maharashtra, six from Madhya Pradesh, five from Haryana, three from Rajasthan, one each from Delhi, Gujarat, Himachal Pradesh, Jammu and Kashmir, Punjab and Uttarakhand.
On a query regarding the process of choosing candidates, AAP's Manish Sisodia, who announced the list, in an attempt to ward off the criticism said that though "AAP has got backgrounds of these candidates checked they are asking people to give feedback about them regarding any act of corruption, criminality or lack of moral character that they might have indulged in".
AAP has been facing criticism for not giving much time of taking feedback from party volunteers or local people.
When asked about it, a senior AAP leader told dna that, "like Delhi elections AAP would not hesitate in recalling any Lok Sabha candidate if there is any evidence of he or she indulging in corruption, criminality or lack of moral character."
"AAP's second list is keeping in line with our promise of fighting big and corrupt names with AAP's big and important leaders. It also fulfils our promise of being inclusive giving representation to all sections of society with special emphasis on women," the AAP leader said.
"A lot of social activists who have been working for people on ground rather than sitting in AC offices like many politicians of today's times are also part of our list. Our future lists will also be like this only," the senior AAP leader told dna.
Amongst the big names who figure in AAP's list are Mahatma Gandhi's grandson Rajmohan Gandhi against Congress's Sandeep Dikshit from east Delhi, social activist Lalit Babar against Union Home Minister Sushilkumar Shinde from Solapur in Mahrashtra, software professional Prashant Mishra against Nationalist Congress Party's Praful Patel from Bhandara-Gondiya (Maharashtra), socialist leader Sanjeev Sane against NCP's Sanjeev Naik from Thane (Maharashtra), acclaimed theatre and film artiste Nandu Madhav against BJP's Gopinath Munde from Beed (Maharashtra).
Amongst other candidates are RTI activist Dr Raja Muzaffar Bhat would challenge National Conference leader Farooq Abdullah from Srinagar, BS Rajput against BJP's veteran Sushma Swaraj from Vidisha (Madhya Pradesh), former independent MLA Paras Saklecha against Meenakshi Natrajan, who is part of Rahul Gandhi's youth brigade, from Mandsour (Madhya Pradesh) and known cardiologist Dr Dharamvira Gandhi against Minister of State for External Affairs Preneet Kaur from Patiala (Punjab).
Haryana and Maharashtra are two major focus states for AAP as it has been getting a huge response from these regions. Today's list also contains five candidates from Haryana including old AAP leader Naveen Jaihind against Haryana CM's son and Rahul Gandhi's team member Deepender Singh Hooda from Rohtak, Bhartiya Kisan Union member Balwinder Kaur against industrialist Naveen Jindal from Kurukshetra, social worker Poonam Chand Ratti against former youth congress chief and Rahul Gandhi's confidante Ashok Tanwar from Sirsa and retired IAS officer Yudhbir singh Khyalia against Kuldeep Bishnoi from Hisar.