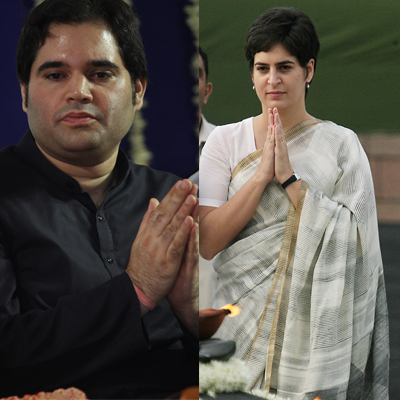 Priyanka Gandhi had spoken about her estranged cousin and political rival Varun Gandhi at a meeting with Congres workers in Amethi, last week.
Accussing his of betrayal, she said, ""He (Varun Gandhi) is definitely from my family, he is my brother. But he has gone astray. When a young one in the family chooses the wrong path, then the elders show them the right path, the right way." She urged people to not vote for her estranged cousin who is contesting from the adjacent Sultanpur Lok Sabha seat in UP.
This has, since snowballed into a rather public battle of words between the two Gandhi cousins. Speaking to a leading news channel, today, Priyanka said, "What Varun has done is a betrayal of my family. He is on the other side of the war, he is on the other side of the ideological spectrum."
Responding to Priyanks's statements, Varun Gandhi said on Twitter, "It is my request to all that instead of personal attacks, we debate unemployment, corruption, illiteracy. Let us try to raise the level of discourse rather than lowering it."
— Varun Gandhi (@varungandhi80) April 15, 2014
Referring to the video that was circulated on Sunday in which she was seen criticising Varun, she said, "This is not a family tea party, its an ideological war." She also told the news channel that she has not spoken to Varun since the video was leaked. "I am not upset that the video was leaked. Those were my own views."
Varun Gandhi, on Tuesday, filed his nomination papers from Sultanpur constituency in Uttar Pradesh, following a roadshow.
Priyanka's mother Sonia Gandhi is contesting the Lok sabha elections from Rae Barelli and her brother Rahul Gandhi from Amethi constituency. Priyanka is managing their election campaigns from these two places.