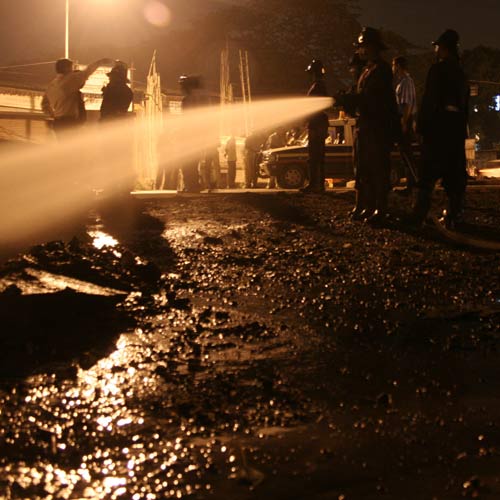 At least fourteen people were killed and seven injured following a blast in a gaspipeline belonging to GAIL in East Godavari district on Friday. "14 people killed in fire following gas pipeline blast in Andhra Pradesh's East Godavari district, informed AP Finance Minister Yanamala Ramakrishnudu.
"The fire has been brought under control and rescues operations are underway. The toll may rise," District Collector Neetu Kumari Prasad said. The blast took place in the early hours, in Nagaram Village in Amalapuram mandal, about 560 kms from Hyderabad. She said adding three persons are critically injured. All the injured have been rushed to nearby hospital, she added.
2 senior GAIL officials suspended over Andhra Pradesh pipeline mishap
State gas utility GAIL today suspended two senior company officials of its Andhra Pradesh office after a fire caused by a possible leakage in an underground gas pipeline killed 19 persons and injured several others. A massive fire on Friday morning in Nagaram village of East Godavari district in AP left 19 people dead and several others injured. Read more
Lighting of stove might have sparked GAIL pipeline fire: Police
Andhra Pradesh Police said the lighting of a stove by a tea vendor might have sparked today's fire in the GAIL pipeline in East Godavari district after leaked gas from the line enveloped the area. As per initial information, there was a major gas leakage from the pipeline around 4.30 AM at Nagaram village in Mamidikuduru Mandal of the district which spread to nearby areas and lighting of a stove at a tea shop triggered the fire and a blast, IGP North Coastal Zone Atul Singh said. However, he said only after a detailed inquiry the exact cause of the incident will be known. The impact of the blast was such that a crater was created on the ground. The fire spread rapidly to the houses in the area gutting them. At least 14 persons were charred to death and 18 others injured in the fire, Singh said. Read more
Oil Ministry orders inquiry into GAIL pipeline fire
Oil Minister Dharmendra Pradhan constitutes high-level committee to probe GAIL pipeline fire in Andhra Pradesh that killed at least 15 persons. "The gas pipeline has been shut. Fire has been controlled. This is a very serious situation and I have ordered a high-level inquiry into the incident," Pradhan told reporters here. The inquiry committee will be headed by a Joint Secretary in his Ministry and will have officials of Oil Industry Safety Directorate, NDMA and Hindustan Petroleum Corp Ltd (HPCL) as members. Read more
Dharmendra Pradhan for setting up statutory safety body for oil & gas industry
With more than a dozen people killed in a deadly fire at a gas pipeline in Andhra Pradesh, Oil Minister Dharmendra Pradhan on Friday expressed shock at the lack of a statutory body for formulating safety measures for the oil and gas industry. The Oil Industry Safety Directorate (OISD), under the Petroleum Ministry, carries out safety audits of oil and gas installations, besides formulating and standardising procedures and guidelines for design, operation and maintenance. However, the body lacks statutory authority. Read more
Prime Minister Narendra Modi condoles loss of lives in GAIL pipeline fire
Prime Minister Narendra Modi today condoled the loss of lives in the GAIL pipeline fire in Andhra Pradesh and announced an ex-gratia relief of Rs two lakh from the Prime Minister's Relief Fund for the next of the kin of those killed. The Prime Minister also spoke to Petroleum Minister Dharmendra Pradhan, Cabinet Secretary Ajit Kumar Seth and GAIL Chairman B C Tripathi and asked them to ensure immediate relief at the accident site. "My thoughts (are) with the families of those who lost their lives in the GAIL pipeline fire in AP. (My) prayers (are) with the injured," Modi said. Read more
My thoughts with the families of those who lost their lives in the GAIL Pipeline fire in AP. Prayers with the injured.

— Narendra Modi (@narendramodi) June 27, 2014
I have spoken to the Petroleum Minister, Cabinet Secretary & GAIL Chairman and asked them to ensure immediate relief at the accident site.

— Narendra Modi (@narendramodi) June 27, 2014
N Chandrababu Naidu, the chief minister of Andhra Pradesh took on twitter to offer his condolances and promise his support.
My condolences to the families who lost their loved ones in East Godavari blast. Ordered an enquiry & action plan to avoid these in future.

— N Chandrababu Naidu (@ncbn) June 27, 2014
Asked Dy CM Chinarajappa to go to the ONGC pipeline blast site and provide required support. We need a preventive plan to ensure safety.

— N Chandrababu Naidu (@ncbn) June 27, 2014
N Chandrababu Naidu cuts short Delhi trip, heads to Andhra Pradesh
Andhra Pradesh Chief Minister N Chandrababu Naidu today cut short his visit to Delhi and rushed to Rajamundry after over 15 people were killed in a massive fire at a gas pipeline in the State this morning. A statement from the Government of Andhra Pradesh here said, the Chief Minister has cut short his tour programme and rushed to Rajamundry along with Oil Minister Dharmendra Pradhan in a special flight this afternoon. Naidu expressed his condolence over the fire accident reported at Mamidikuduru in Amalapuram of East Godavari district, it added. Ahead of his departure from Delhi, Naidu told reporters that he received information about the accident this morning and he is monitoring the situation with the District Collector regarding rescue and relief measures. Read more
Issuing a statement, GAIL chairman BC Tripathi said the fire occurred in an 18-inch pipeline of the company near to the ONGC (Oil and Natural Gas Corporation Limited) refinery complex. "The reasons for the accident are not known yet. We are currently focused on rescue and relief operations," he added.
Eight fire tenders are at the spot to contain the blaze that began in the wake of the blast. Huge flames sent panic among people in the area.
The blaze is under control now. Rescue operations are underway. Meanwhile, supply of gas has been cut off. The Home Minister of Andhra Pradesh will visit the site soon. ONGC has shut the Andhra gasfield following fire in GAIL's pipeline.
PM Narendra Modi announces additional ex-gratia of Rs 2 lakh
Following the incident, Modi announced ex-gratia relief to families of the victims. This is in addition to the relief assisance provided by the Petroleum Ministry and GAIL. Read more
PM has announced ex-gratia relief of Rs. 2 lakh from PMRF, for the next of kin of those who have lost their lives in the GAIL pipeline fire.

— PMO India (@PMOIndia) June 27, 2014
The relief announced by the PM is in addition to the relief assistance given by the Petroleum Ministry and GAIL.

— PMO India (@PMOIndia) June 27, 2014
An ex-gratia relief of Rs. 50,000 has also been sanctioned for those who were seriously injured in the incident.

— PMO India (@PMOIndia) June 27, 2014
Residents of Nagaram village said they heard a deafening sound and soon after a huge ball of fire engulfed the area.
Expressing anguish that the pipelines are located in residential areas, they alleged that officials of oil companies have, of late, not promptly been attending to the safety aspects. Though smell of gas was being felt in the village, the officials did not look into the possibility of a leakage, they claimed. "The local residents are angry because they feel that the GAIL authorities did not bother though smell was coming and pipelines were rusting. The Home Minister (N Chinarajappa) and district officials are talking to them," Finance Minister Y Ramakrishnudu said.
He said coconut plantations on about 10 acres of land, which the region is famous for, were gutted and a report is being obtained on all these aspects. The locals recalled the massive fire in a gas well at Pasarlapudi village in East Godavari district in mid-1990s which could not be put out for nearly two months.
(With agency inputs)