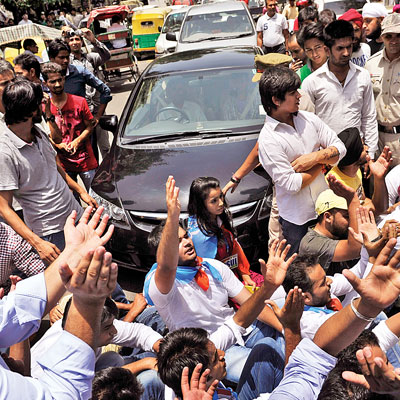 The stand-off between Delhi University and the University Grants Commission is costing India its international image. Ever since FYUP was introduced a year ago, several foreign universities have been keen to set up shop in India, and foreign students have also been looking at India as a destination to study.
The university this year received nearly 2.7 lakh applications for admissions to the Four Year Undergraduate Programme, with 6,000 of them from foreign applicants. But with the chaos unleashed in DU over FYUP, the varsity's international relations department is finding it very tough to answer queries from foreign applicants.
Department officials said it will get difficult for the university to sign MoUs with foreign universities if conditions remain the same. Uncertainty also prevails on the fate of several foreign university bills that are lying in Parliament for approval.
With the FYUP slated to enter a second year (though there's utter confusion on that matter now), DU had created a foreign student admission department to facilitate admissions. "Yes we are getting queries. But when we ourselves have no clarity on the outcome, it becomes a very awkward situation," said an official.
It must be kept in mind that foreign nationals had been showing an increasing interest in Delhi University and the courses it offered as the FYUP programme introduced a year ago was quite in sync with the teaching pattern followed globally.
For all that, the office of the dean international relations has been facing some embarrassment at the beginning of this academic year. The university had already initiated the process of signing MoUs with several European universities for student exchange programmes. "For one full year we have been trying to convince foreign universities to look at what we have to offer foreign students, of FYUP. Now we will have to begin all over again, except that we'll have to make a pitch for another programme," said a senior member of the university.
The UPA government had introduced Foreign University Bill and Education Reform Bills in the Parliament and several foreign universities have been waiting to open their centres in India and award students their degrees. These universities can only operate in India if there's a 4-year module, like the FYUP of DU.
Some of the bills waiting for parliament approval are the Foreign Educational Institutions (Entry and Operations) Bill, Foreign Education Provider Bill, Prohibition of Unfair Practices in Technical Educational Institutions Medical Educational Institutions and University Bill 2010, Educational Tribunal Bill and Universities of Research and Innovation Bill.
"If Delhi University's FYUP is scrapped, bills that will allow foreign universities to operate in India will also be held back," said a senior university officer, his demeanor unsmiling and grim.