Thirty-four-year-year-old Baby Halder's employer, retired anthropology professor Prabodh Kumar, who happens to be author Prem Chand's grandson, noticed her interest in his books.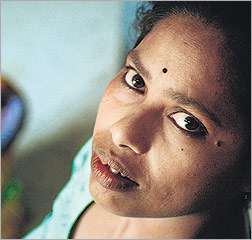 NEW DELHI: Thirty-four-year-year-old Baby Halder's employer, retired anthropology professor Prabodh Kumar, who happens to be author Prem Chand's grandson, noticed her interest in his books as she dusted them. He then gave her a notebook and told her: "Write down the story of your life."
A tale of poverty, hardship and violence emerged as Halder scribbled at night in a school exercise book after the meals were cooked, dishes washed, house cleaned and her own children put to bed.
Halder's memoirs, translated from Bengali, have now appeared in a book entitled A Life Less Ordinary. Readers follow her as she is abandoned by her mother at four, married off by her father at 12, becomes a mother herself a year later, then finally flees her violent husband and takes her children to New Delhi to seek a better life.
Nowhere does she voice resentment against employers who treated her unkindly, making her work long hours for miserable pay, or for the abusive treatment she got from her father and her husband."I don't blame them. It's the way they were brought up, so that was the way they treated others," asserts Halder, who despite her painful past, resonates cheerfulness.
She says she feels a huge debt of gratitude to her mentor, Prabodh Kumar. "He was the first employer who treated me like a human being ... and turned me into a writer," Halder explains. The book is already a best-seller in Bengali and in Hindi. A French translation is in the works and the book will be one of India's offerings at the Frankfurt Book Fair in October.
"I wanted my children to have an education," says Halder, explaining her decision to come to the capital. She had been a good student, but was forced by her father to quit at the age of 10 to help in the house and to do odd jobs. "I was determined my children would not have the same kind of life," she says.
At one of the upper middle-class homes where she worked in New Delhi, she recounts she "barely had time to breathe" as she swept, made beds and cooked, even giving the family foot massages when they returned from work.
A milkman among Halder's acquaintances knew she wanted another job and introduced her to Kumar. "I found her turning the pages of books and looking fondly at the titles," Kumar recalls. "I found out she had been schooled and read a lot of classic authors when she was a child."
Kumar gave her a book from his library to read—Bangladeshi author Taslima Nasreen's autobiography My Girlhood, about her unhappy, tumultuous youth and rage about being born a woman in a poor society. It was a turning point. Halder devoured that book and then others.
Finally Kumar, who also speaks Bengali, handed her a notebook and urged her to write her own life story. "She was embarrassed, reluctant. She said she didn't think she would be able to do it, that she had forgotten her spelling, but I persisted," he says.
"I had to go to South India for a month and when I returned, I found she had penned 100 pages," he adds. "I had to do a litle organising of the text but I could appreciate what is good literature and that first effort was fantastic." When she had penned the final page, Kumar found a publisher.
Halder says that when she first saw her name in print in 2002, her "heart leapt". But Kumar plays down his role in changing her life. "Everyone needs a catalyst to do something with their lives and Baby grasped the opportunity that came her way," he says.
Halder, who is working on a sequel to her memoirs, still works for the professor who is in his 70s and says she will stay with "Prabodhji" as long as he needs her.
At the moment, though, she is also basking in the limelight of being a celebrity author, appearing in newspapers and on television. The best part of writing the book, she says with a broad smile, is "My children no longer have to say I'm a servant , they say proudly: "My mother is a writer.'"