The spirit of homemade festivity has now changed with people going in for readymade items
With lifestyle getting more hectic and stressful, people are always hard-pressed for time. This has impacted the way they celebrate festivals. Earlier, Diwali was about gathering at a relative or friend's place and making sweets, dry snacks, torans, rangoli and diyas. Now, people buy most of this from the market making it a readymade Diwali.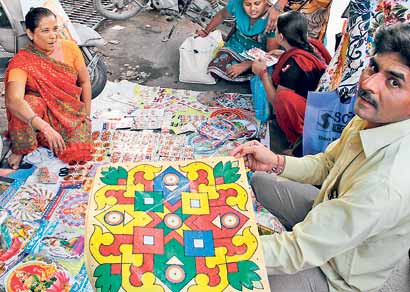 Rangoli
During Diwali, people decorate the entrances of their homes with colourful rangolis made of powdered colours, grains or flowers. But nowadays people feel it is too time-consuming to make them and rangoli stickers or readymade stencils are being used. "Every year on Diwali I make rangoli of Lord Ganesha with grains at home since the time I got married. It only takes three hours to make it and as I have the time, I do it. But my daughter buys the readymade stickers," says Archana Pandya (45).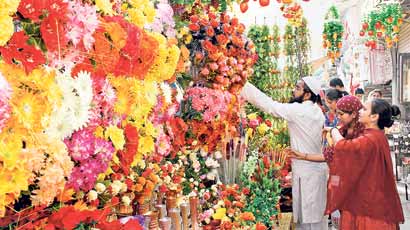 Torans
Beads, shells, mirrors, idols of Gods and bells were strung together by the homemaker in one thread for Diwali. Now the torans are bought from the market. Arti Sharma (39), a working woman says, "I am usually busy with office work from morning to evening. I am already done with shopping for Diwali. There are so many attractive wall hangings and torans available in the market. It saves so much time to just buy and hang them.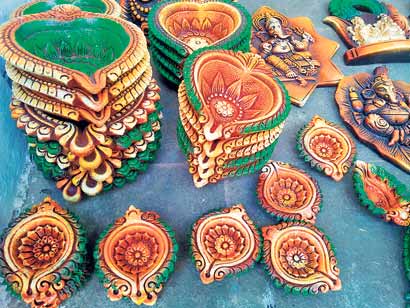 Diyas
The festival of lights is incomplete without diyas. The traditional Diwali diyas or lamps have witnessed a makeover in the past few years. Today, designers and craftsmen mould them into innovative shapes and paint them. Wax-filled diyas are very much in demand as they are more convenient to use than the conventional oil ones. Brass and aluminium diyas are also quite popular. Sharda Goplani (50) still believes in the tradition of 'gheewala diyas' to be lighted on Diwali. "No matter how advanced the world might get, the celebration of a festival should not lose its essence," she says.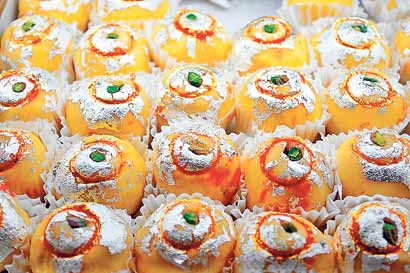 Sweets and savouries
Diwali preparations used to begin with making tikha gathiya, mathiya, maide ki chakri, nariyal ki mithai, besan ke ladoo, and other delicacies at home. The women would gather at one place and prepare this farsan and sweets in the traditional way under the guidance of grandmothers or mothers-in-law. However, now people prefer to buy food items from shops. Sunanda Kulkarni (53) who still believes in the do it yourself (DIY) Diwali has been making all sweets at home for the past 20 years. She says, "I start preparing the sweets and snacks 10 days before Diwali. My family members and relatives love my homemade sweets."