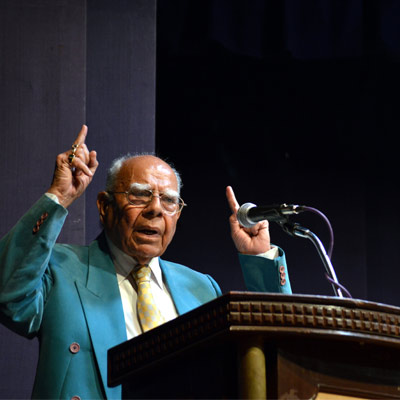 Former Prime Minister Manmohan Singh's office allegedly intervened to back a judge under scanner for corruption even though top judges of the Supreme Court made it clear that they were against it. According to sources PMO's office sent a note to collegium of Supreme Court judges backing the confirmation of a judge of the Madras High Court. But Supreme Court judges refused to budge. Then law minister again wrote to them stressing that government is backing the judge. R C Lahoti who was the Chief Justice at that time cleared the extension of the judge but didn't confirm him. However he attributed his decision to the "sensitivity of the government on the issue".
Commenting on the issue, Ram Jethmalani said, "He should have had the moral courage to speak out at that time. If I was in justice Katju's position I would not have rested thinking that my duty is performed by informing (then Chief Justice of India) RC Lahoti. According to me, justice Katju to some extend failed in his duty. Perhaps he felt that publicity may cause more damage than prevention of corruption."
Justice Katju clarified his stand and said that he did whatever was possible for him within the restraints on his position.
"As long as I was a sitting judge I could not have gone public. That was the maximum I could do at that point of time. There is an unwritten code of conduct for a sitting judge. There is a judicial discipline that I had to follow. Till September 2011 there was no question of me going public because I was a sitting judge. I had told then CJI Lahoti about the judge. Is truth not more important than timing?" said Katju.
"When he realised that despite speaking to Lahoti the mischief is continuing he should have spoken out. He should now apologise for not trying to stop that. He should have sacrificed his position of sitting judge and should have gone public. He should have resigned and exposed the wrong in the system to the nation. I am not doubting his integrity. He tried to prevent corruption. I don't know if there are any rule that prevents a judge from speaking the truth," Jethmalani added.
Earlier former PM Manmohan Singh spoke to Zee News exclusively on Katju issue. He said, "Then Law Minister Hans Raj Bhardwaj has to explain everything. So, I have nothing to say on it."
Despite facing flak for his recent revelations, Markandey Katju has decided to take the battle forward and has posed six questions to Jusitce R C Lahoti in his blog.
In a blog post, Katju had claimed that three ex-Chief Justices of India had compromised in giving extension and elevation to an additional judge of Madras High Court under pressure from the UPA government.
Markandey Katju slammed by legal luminaries for attack on ex-CJIs
Former Supreme Court judge Markandey Katju, who stirred a controversy by levelling allegations against three ex-Chief Justices of India on the issue of an alleged corrupt judge, on Tuesday came under criticism from legal luminaries who said it was "unbecoming" of a former apex court judge.
Katju yesterday created a furore alleging that Justices R C Lahoti, Y K Sabharwal and K G Balakrishnan had made "improper compromises" and "succumbed" to political pressure to allow a Madras High Court judge under corruption cloud to continue in office at the instance of the UPA government owing to pressure from an ally, a "Tamil Nadu party", apparently DMK.
"It is very unbecoming of an ex-SC judge to raise this now. By questioning the former Chief Justices, you are bringing down the institution", said Sorabjee, a former Attorney General.
Sorabjee slammed Katju for making allegations after so many years and said that he acted in a very "rash manner". Katju is currently Chairperson of Press Council of India. Read More
Markandey Katju poses six questions to former CJI RC Lahoti
Launching another salvo against former Chief Justice of India RC Lahoti, Press Council of India chairman Markandey Katju on Tuesday posed six direct questions to him pertaining to the appointment of a corrupt judge of the Madras high court.
Recounting his communication to the then CJI Lahoti, Katju, who was chief justice of Madras high court at that time, claimed that he had asked CJI to get a secrete IB inquiry done against the judge. Read More
DMK deliberating on Markandey Katju's allegation of UPA's 'Tamil Nadu ally' lobbying for corruption
Dravida Munnettra Kazhagam is deliberating on former Supreme Court judge Markandey Katju's allegation that United Progressive Aliance (UPA)'s "Tamil Nadu partner" lobbied for a corrupt judge, a party leader said.
"Katju has neither named the party nor the judge. Let the Congress which led the UPA react," he said, requesting anonymity. "He has named UPA and former prime minister Manmohan Singh, so let the Congress react."
Dismissing the allegation as "sweeping wild charges made with ulterior motives," he sought to know why Katju was raking up the so-called scandal now. "Katju has made this charge against UPA after it demitted office. He must explain the reason for his silence all these years. Remember that he came to his present position during UPA regime," he said. Read more
Demand for probe into Markandey Katju's charges, timing questioned
There were mixed reactions from parties to Markandey Katju's charge that three ex-Chief Justices of India had compromised in giving extension and elevation to an additional judge of Madras High Court at UPA government's instance, with some including AIADMK demanding a probe while others questioned the timing of his disclosure. Read more
BJP seeks answer from ex-PM Manmohan Singh over Markandey Katju's corruption allegations
The Bharatiya Janata Party (BJP) on Tuesday asked former Prime Minister Manmohan Singh and the Congress to answer allegations of "improper compromises" by three ex-Chief Justices of India (CJIs) during UPA rule, saying the matter was "unfortunate".
"Former Prime Minister Manmohan Singh and Congress should come forward and answer the allegations of how different constitutional bodies, including the Judiciary, were misused for political reasons. It is unfortunate and a matter of serious concern," BJP Vice President Mukhtar Abbas Naqvi said.
He said Congress and corruption "are made for each other" and the "jugglery" of judicial appointments made by UPA is another example of how the Congress "misused" constitutional bodies.
Former Supreme Court judge Markandey Katju, now Chairman of Press Council of India, had triggered a controversy on Monday by alleging that three ex-CJIs made "improper compromises" during UPA rule in allowing a judge in Tamil Nadu under corruption cloud to continue in office. Read more
Watch the video report below:
Read: BJP uses Markandey Katju allegations to pursue agenda of judicial overhauling
Katju charged that despite an adverse report against the said judge, Justices R C Lahoti, Y K Sabharwal and K G Balakrishnan had made improper compromises and succumbed to political pressure in allowing the judge to continue his tenure.
"Everything is a matter of record. Whatever I have done or not done is all on record with reasons. I have never done anything wrong in my life," said Justice Lahoti while retaliating to Katju.
Katju has posted some specific questions for Justice Lahoti in his blog:
1. Is it , or is it not, correct that I first wrote him a letter from Chennai, stating that there were serious allegations of corruption about an Additional Judge of Madras High Court, and therefore he ( Justice Lahoti ) should get a secret intelligence enquiry held against that Additional Judge,and thereafter I personally met Justice Lahoti at Delhi and again requested for a secret IB enquiry against the Additional Judge about whom I had received several complaints, and from several media reports, that he was indulging in corruption?
2. Is it, or is it not, correct that on my request Justice Lahoti ordered a secret IB enquiry against that Judge?
3. Is it, or is it not correct, that a few weeks after I personally met him in Delhi and then returned to Chennai, he telephoned me from Delhi ( while I was at Chennai ) and told me that the IB, after thorough enquiry, gave a report that indeed the Judge was indulging in corruption?
4. Is it , or is it not, correct that after receiving the adverse IB report against the Additional Judge, Justice Lahoti, who was then Chief Justice of India, called a meeting of the 3 Judge Supreme Court Collegium, consisting of himself, Justice Sabarwal, and Justice Ruma Pal, and the 3 Judge Collegium, having perused the IB report recommended to the Government of India not to extend the 2 year term of that Additional Judge?
5. Is it , or is it not, correct that after that recommendation of the 3 Judge Collegium of the Supreme Court was sent to the Government of India, he ( Justice Lahoti ), on his own, without consulting his 2 other Supreme Court Collegium colleagues, wrote a letter to the Government of India asking the Government to give another 1 year term as Additional Judge to the concerned Judge?
6. If indeed the IB reported, after an enquiry, that the Judge was indulging in corruption, why did he ( Justice Lahoti ) recommend to the Government of India to give that corrupt Judge another term of 1 year as Additional Judge in the High Court?
Meanwhile, he also posted some clarification on the issue:
"Some people have commented about the timing of my statement. What happened was that some Tamilians had commented on Facebook that I am posting several matters on my Facebook post, so I should also post some of my experiences in Madras High Court. Then I started posting about my experiences there, and it was at time I remembered this experience too, and posted it," he said.
The current scenario:
The government has so far refrained from commenting on the matter, but sources said it is of the view that the allegations underline the need for setting up an alternative mechanism for judicial appointments. The BJP government is in favour of setting up a Judicial Appointments Commission which seeks to scrap the present collegium system of appointing judges.
For the first time this year the judicial collegium had recommended seniors from the Bar overthrowing the convention of appointing Supreme Court judges only from the bench. The BJP government promptly struck out the name of senior advocate Gopal Subramanian, since he had appeared against Amit Shah in the Gujarat encounter death cases.
Katju is now in the Congress's line of fire with party leaders dismissing the allegations as an attempt by him to get close to the present regime. "I take it as an attempt to defame judiciary," party leader Rajiv Shukla said.
"It is a serious matter ... the previous government and the DMK interfered in the appointment of a corrupt judge," AIADMK leader M Thambidurai said during Zero Hour.
Shiv Sena's Sanjay Raut and D Raja of CPI questioned the timing of allegations and asked what Katju did when the alleged corrupt judge was elevated.
Also read: Demand for probe into Markandey Katju's charges, timing questioned
M Karunanidhi blasts Markandey Katju, says he is acting under indirect pressure
Dravida Munnettra Kazhagam (DMK) President M Karunanidhi on Tuesday lashed out at former Supreme Court Judge Markandey Katju ? for his allegations on a Tamil Nadu judge, which has put his party under a cloud, and accused him of acting under 'indirect pressure' Breaking his silence on the issue which has triggered a major controversy, the 90-year old former chief minister questioned Katju's motives in raking up a decade-old matter and described it as an attempt to "defame the judiciary" despite being a part of it for several years.. Read more
Former Law minister bats for strong system of judicial appointments
In the eye of a storm over the extension to a high court judge facing corruption allegations, former Law Minister HR Bhardwaj on Tuesday supported strengthening the present system of judicial appointments saying the National Democratic Alliance (NDA) government should take steps in this regard. He said the Executive is within its rights to have a law properly defined and laid down by parliamentary procedure. Read more