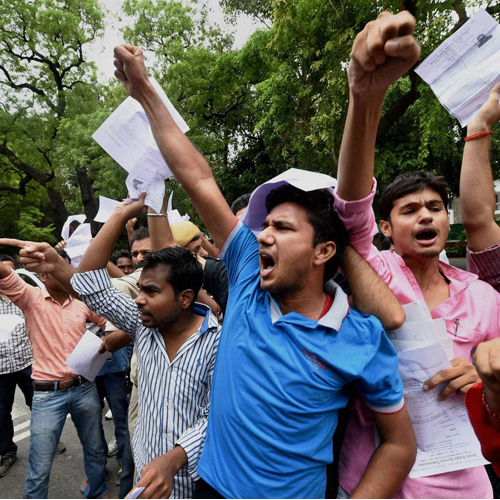 Buckling under pressure of street protests, government today announced that English marks in CSAT-II will not be included for gradation or merit in the civil services preliminary examination but the protesters were still not satisfied and demanded scrapping of the aptitude test.
The government announcement in an attempt to mollify those agitating against giving prominence to English and weightage to those with engineering and management background was made in Parliament after opposition parties in both the Houses created an uproar over the issue.
Prime Minister Narendra Modi, who returned after two-day trip to Nepal, met with senior ministers Rajnath Singh (Home), Arun Jaitley (Finance) and Jitendra Singh (MoS, Personnel) and got a briefing on the issue and the latest developments related to it.
The Department of Personnel and Training (DoPT) will issue a notification to reflect the changes announced by the government which the Union Public Service Commission (UPSC) will implement.
"Government is of the opinion that in the civil services preliminary examination, Paper-II, the marks of the question section on 'English Language comprehension skills' should not be included for gradation or merit," Singh said seeking to mollify the agitating candidates.
In a brief statement, Singh said, "Candidates, who appeared in civil services examination 2011, may be given one more attempt in 2015."
Parliament has witnessed repeated uproar and several adjournments in the past few days over the issue.
However, the government's statement was rejected by the protesters who demanded complete scrapping of the CSAT.
"We are not satisfied with Minister of State for Personnel Jitendra Singh's speech in Lok Sabha regarding CSAT. We demand complete scrapping of CSAT. We have decided to continue our fight" Pawan, an UPSC aspirant who has been leading the protest, said.
Pawan said this was not what the protesters have been demanding. "We never asked the BJP-led government to modify CSAT pattern. Instead, our demand is to abolish this test for the welfare of lakhs of students who had studied in Hindi medium," he added.
The civil services preliminary examination will be held as scheduled on August 24 with the changes announced by government in Parliament today including non-inclusion of English marks in gradation of candidates.
The move comes despite demands by some protesting students to postpone the preliminary exam until the new pattern was adopted by the UPSC.
Below are some opinions from different publications:
UPSC controversy: A civil solution
The hue and cry over CSAT—with Hindi-speaking aspirants protesting on the streets in Delhi—is unwarranted. The CSAT tests very basic, school-level skills, including English comprehension. Surely all civil servants ought to have them? Demanding a relaxation—slyly couched in terms of a language controversy—is unacceptable.
In India it is easy to "relax" anything and everything; one just needs to have sufficient numbers on the streets to create a law-and-order problem. The civil service, originally an apolitical institution, has been so twisted by political interference that any more tinkering will leave it wholly useless. Governing India well requires its strengthening, not weakening. Read the full report by Mint here
Why the UPSC protests are not really anti-English or pro-Hindi
Across the board, the activists had similar reactions to the government's move on Monday not to count the scores of the English proficiency section of the prelims this year. Many are carrying on with their agitation, built around the argument that the exam favours the urban elite. The Bharatiya Janata Party's youth wing has particularly been pushing this line, along with a few Leftist student organisations.
Others from beyond the Hindi belt are asking for a language-proficiency test, but one that gives aspirants the option of choosing any one of the 22 scheduled languages. Some have even suggested that, just as civil service officers posted to a state like Tamil Nadu are required to learn Tamil after they have been transferred there, aspirants who need better English can be coached after selection.
With the protesters planning to continue their demonstrations despite the temporary suspension of the English proficiency portion of the exam, it should become clear that pro- or anti-English politics are not the central fault line in this battle. Read the full report by Scroll here
Testing untaught competencies
There are experts who argue that it is not possible to test non-cognitive competencies and therefore testing based on analytical and problem solving skills needs to be retained. However, test scores are always considered as subjective judgments, more so in a pluralistic society like India, where the civil service is the dream career of many educated youngsters belonging to different socio-economic and educational backgrounds. Even SAT — conducted in the United States for college admissions — is considered biased in favour of whites.
CSAT and the Common Admission Test (CAT) belong to the same category. Aspirants seem to think of them being elitist and not enabling a level playing field to the majority (around 70 per cent) of them who come from rural backgrounds, with regional language as a medium and from the deprived sections. Thus, it can be argued that 70 per cent of the aspirants are eliminated at the entry level itself.
Further, our education system today is totally polarised. Students who come from the urban middle class are sent to elite schools where they are taught the prerequisites of reasoning, analytical skills, interpersonal skills, mental ability and all that is required for management and engineering education. The schools in rural areas and those which impart instruction in regional languages do not have the academic and financial resources to prepare students for tests like CSAT. Is it moral and honest to test students in subjects that were not taught when we need to qualify candidates not for a degree but for lifelong service? Read the full report by The Hindu here
And the winner is English
The protest is not against an aptitude test per se, though some protesters seem to say so. All over the world, aptitude tests are a standard way of judging a candidate's suitability for a job. You can dispute whether a particular aptitude test fits the bill, but not the very idea of an aptitude test. There can be a debate about the right mix of skills needed for being a civil servant. (My colleague, Manish Sisodia, thinks you need an "attitude test" — a test of social skills and emotional intelligence — for this job.) But it would be hard to dispute that certain basic analytical, linguistic and quantitative skills are a must.
Similarly, though there is something to the humanities versus science subjects dispute, this is not the heart of the matter. It is true that over the years, students with a background in engineering and management have come to do much better than others in the civil services examination. But then, medicine, engineering and management tend to draw a disproportionately bigger share of the talent pool of our school-leaving students. Science students may be more familiar with the format of the CSAT, but it is disingenuous to argue that tests of reasoning and quantitative skills are necessarily loaded in. Read the full report by Indian Express here
With agency inputs